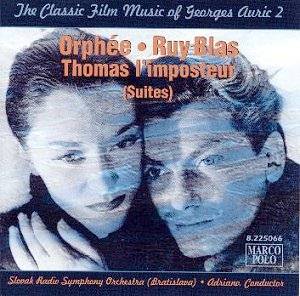 This new collection follows on from Marco Polo's 1994-recorded album devoted to Auric's score for the 1946 film La Belle et La Bête [also reviewed this month] and, again the conductor is Adriano. Adriano has great commitment and enthusiasm, his knowledge and love of French cinema, and its celebrated composers' music, is apparent not only in these splendid performances but also in his eloquent and insightful liner notes.
Orphée was Jean Cocteau's fifth work as a script/dialogue writer and film director. (Cocteau was very much involved with Les Six of which Auric was a member) The film is a modern and highly original elaboration of the ancient myth of Orpheus. It is heavy with symbolism. Its cast includes Jean Marais as the poet, Maria Déa as Eurydice, Maria Casarès as the Princess, François Périer as Heurtebois and Eduard Dermit as Cégeste. Cocteau's script is set in a provincial French town of the 1950s and its theme is immortality. To reach this stage, a poet has to pass through the world of Death (imagination) in order to regain his lost inspiration (his wife). It is finally Death himself who sacrifices his own existence for the poet's salvation. The film involves a mix or real and unreal characters, situations and locations. The so-called "Zone" through which the poet will have to travel, by penetrating it through mirrors (scenes which have made this film famous), represents no-man's land between life and death "made of men's remembrances and of ruins of their habits." In the Zone, he has to account for his work in front of a jury of policemen and other writers. Orphée then must return to the Zone a second time after his purifying "death" in order to win back his wife for ever.
Auric's six-movement suite from the film owes much to the composer's earlier fantasy score for La Belle et la Bête. It commences with a bold heroic and dramatic Main Title that also suggests a searching and yearning as well as Orpheus's love of Eurydice. 'Orpheus and the Princess' sounds other-worldy (but anchored by a funeral-like treading ostinato) and a dialogue between the two characters seems to be suggested. The music alternates between the light-as-air delicacy of a pastoral dance and more shadowy material. Auric makes interesting use of a saxophone. 'In Zone 1' the earlier light-as-air material is recapitulated but it now sounds more plaintive and melancholic; and together with 'In Zone 2', Auric uses string tremoli against harp, celesta and vibraphone to heighten the eerie atmosphere. The glittering 'Looking for the Princess' is an arresting rushing scherzo in 15/8 time. The most extended six minute movement, 'Orpheus and Eurydice', includes the main love theme, and is a beautiful Andante (yet with shadows lurking). This movement is sheer magic in Auric's own inimitable fantasy style. Auric's arrangement of Gluck's 'Complainte d'Eurydice' (Eurydice's lament) also included in the film, rounds off the Orphée section of the programme.
Les Parents Terrible was a film about incest: a mother's stiffling love of her son and a father's love of his son's fiancée. Auric's brief three minute 'Image Musicale' from the film is made up of short extracts. Not surprisingly, the music is melodramatic, oppressive and sombre. But in the middle there is a playful tune for ondes martenot and piano which sounds oddly like something written by Percy Grainger.
Thomas l'Imposteur came to the screen in 1965 two years after the death of Jean Cocteau from whose novel the screenplay was adapted. The story, set in France during the First World War, is about a group of wealthy Parisians who, led by Clémence de Bormes, a widowed princess, bring some action into their boring everyday lives by transforming her palace into a hospital and organizing an ambulance convoy to the devastated countryside. Clémence and her daughter Henriette make the acquaintance of Guillaume de Fontenoy, an exalted young man (actually Thomas "the imposter") in a fake uniform who pretends to be the nephew of a famous general and who offers to join the charity group as a helper. Very soon the realities of war intrude and whilst Clémence is gradually infatuated by Guillaume, Henriette falls in love with him. But Guillaume decides to join the fighting troops and undertakes a dangerous mission and is killed. At this news, Clémence who has renounced her love for the young man in favour of Henriette, experiences the breakdown and eventual suicide of her daughter in a mental
Sanatorium. The opening Main Title is a perky march full of irony and written tongue-in-cheek. It culminates in a hymn that reminds one of Mahler's Second Symphony. 'Meeting the bishop' is a charming, rather neo-classic chamber piece for eleven wind instruments and ondes martinot. 'Clémence and Henriette' is another brilliant one of Auric's penetrating satirical pieces. The ondes martinot adding the sardonic touch for the unrealistic too-old affections of Clémence. The movement is a clever airy waltz that shows up the two women as charming but rather superficial. This waltz theme is later varied as a lively scherzo for 'Across the dunes on motorbikes.' On the fringes of the drama - The spirit of adventure' is another mainly romantic interlude contrasted with the 'Hell at Reims' which introduces a much more dissonant and realistic atmosphere, Auric really makes you feel as though you are under fire.
Ruy Blas (1947) was based on Victor Hugo's novel set in the Spain of the Inquisition. It starred Jean Marais in the dual roles of Ruy Blas and Don César in a story of court intruigues and forbidden love (Ruy's for the Queen). For Auric it must have been fun to write such straightforward and colourful music for what was essentially a swashbuckler albeit rather darker with an unhappy ending. Auric uses a large orchestra including triple woodwinds and cor anglais, a larger percussion section, celesta, vibraphone, piano and two harps besides the usual strings. The Main Title is Auric's special Gallic take on the sort of bravado and romance served up by Korngold for his Hollywood romances. 'Festival' is a colourful swirl of Spanish dance rhythms. 'Through Mountains and gorges' is an atmospheric and bravado-narrative style piece for the sequence where Ruy risks death to pluck an exotic plant for his Queen. The growing romance between the pair is contained within such cues as 'Le Bouquet', 'Le messager blessé' and 'Rendezvous dans le parc') but there is also plenty of dark sinister material particularly associate with the villanous Don Salluste.
A very entertaining programme full of Gallic wit and charm
Reviewer
Ian Lace.

Reviewer
Ian Lace.

---
---
Reviews carry sales links
but you can also purchase
from: