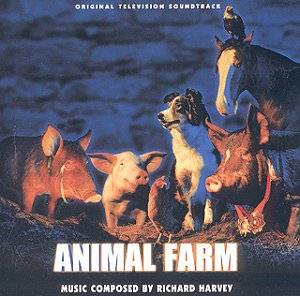 All human life is here, or rather all musical life, down on Animal Farm. This is Richard Harvey's music for a new live action film version of George Orwell's second most famous book, his brilliant fairytale fable of the horrors of totalitarianism. The film recently received its premiere in Swanage as part of the Purbeck Film Festival, and I almost went to see it. I chose to see something else that night, deciding to see Animal Farm when it inevitably became a Christmas blockbuster - the animal effects have been done by the same Jim Henson Creature Shop team as worked on Babe. Unhappily I have missed my chance, for it turns out that the film is actually a Hallmark TV movie, and will, despite a cast including Kelsey Grammer, Ian Holm, Julia Ormond, Pete Postlethwaite, Paul Scofield, Patrick Stewart and Peter Ustinov, by-pass the cinemas. Even so, the production values appear to be worthy of a major feature, and it seems that the film has been made with a great deal of integrity and fidelity to the source.
Quite how this music will work with the film is obviously hard to say, but when first pressing play it is likely that many listeners will be surprised. The album is certainly not what I was expecting. 'Storm of Judgement/Main Title' announces the drama as if it were Legends of the Fall Part II, or perhaps that drama filtered through Trevor Jones The Last of the Mohicans. In other words, brooding percussion leading into fatalistic, sweeping and somewhat portentous theme appropriate to a western epic. It may be that when coupled with the on screen action there is a degree of sardonic humour, some of Orwell's satire of pomp and power, but on disc it simply sounds grand, stirring and rather fine. This is music for acts of valour, destiny and the anticipation of tragedy. However, later, as Harvey adds elements of massed voices singing in choral conformity, together with elements pointing to 20th century Russian classical music, it becomes clear that he is setting East against West, the sound of regimented Soviet Russia against the freedom symbolised by the vast plains of the American west, as mythologised and romanticised in countless westerns. It is an ingenious method of setting the conflict at the heart of Animal Farm in musical terms.
'Dumb Animals…' is playful English pastoral, yet are there Jawas at work here? Whatever is certainly already, this is an imaginatively crafted score, and Richard Harvey is having tremendous fun weaving his threads together. 'Meeting in the Barn' introduces a new and lighter theme, then the choir arrives, and just for a moment we might be somewhere near Southampton and a certain famous ship. 'Old Major's Last Words/Beasts of the World' introduces the first setting of Orwell's famous revolutionary song 'Beasts of the World', for which Harvey has crafted a people's anthem, simple, catchy and instantly memorable. The choir returns with distant atmospherics, and the sequence continues through 'We Can Help Ourselves', a glacial piano set against Autumnal strings. Now, by track 5 we should be certain that the level of invention and wealth of material here marks this as a major score. A more certain setting of 'Beasts of the World' indicates the animal's growing resolve, with a sly Soviet style chorus slipping in just for a moment. Matters come to a head with the bold action of 'The Battle of the Barn', a brief but dramatic set-piece, which combines action writing with a march-like treatment of the main theme. The faint, occasional evocations of Titanic, may just suggest that all are sailing a doomed ship of dreams.
Nicole Tibbels gives full voice to 'The Song of the Grateful Duck', before the piece explodes into a choral anthem which would not disgrace a grand Russian opera, and the finale 'We Were Never Free', combining electronics with orchestra and choir, lingers in the mind long after the disc has ended. I am not going to comment further on the tracks which come between the opening selections and the finale, because this is one album to explore yourself, a vast, complex, rich and extravagantly multi-layered score.
If there is a weakness as an album, it is that it would be nice to hear certain sections more fully developed, while those with a disliking for the music of James Horner should perhaps be aware that it seems someone at Hallmark asked Mr Harvey to sound as much like Mr Horner as possible. Beyond this, the sound does seem a trifle clouded, lacking the last degree of clarity one expects from a modern recording. Even so if you simply want to enjoy film music of considerable depth and beauty, demonstrating intelligence, wit and a well developed melodic sensibility, you would be hard pressed at the moment to find a better new score.
Reviewer
Gary S. Dalkin


Reviewer
Gary S. Dalkin

---
---
Reviews carry sales links
but you can also purchase
from: