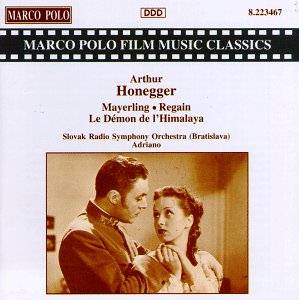 Arthur Honegger (1892-1955) was a great film enthusiast. He was often seen on the set during filming and he had astonishingly advanced ideas on the role of film music. As Adriano writes, in his informative notes for this album, "…He regarded the ideal film score as a distinct component in a unified medium, despising clumsy attempts at cartoon synchronisation with movement on the screen, and looking forward to films that might not so much be supplied with music as inspired by it."
Mayerling (1936) starred Charles Boyer and Danielle Darrieux both unconvincing in the roles of Archduke Rudolf and Marie Vetsera who committed joint suicide rather than deny their impossible love. [This true story, that rocked the Austro-Hungarian Empire, has never been satisfactorily filmed, the later Omar Sharif and Catherine Deneuve was equally limp.] Honegger's music was one of its better elements. From the score, the composer fashioned a four-movement suite, full of romantic/Viennese colour. The opening movement is regal but tragic and it includes a quotation from Strauss's waltz, Wine Women and Song. The shadows fall over 'Jardin' which is otherwise a beautiful evocation of rippling waters and fountains and birdsong in a scented, colourful garden. The final movement is very intense and full of pathos in a desperate post-romantic harmonic style. Two shots ring out over the orchestra, emphasising the tragedy.
Marcel Pagnol's film Regain (Aftermath) (1938), starred the great Fernandel. It was set in Provence and it was about the deserted village of Aubignane and its infertile land, eventually brought to prosperity again through the united forces of a poacher and a cabaret girl. Panturle has taken her away from Gédémus, a good hearted but simple-minded knife grinder, who had bought her after she had been raped by some charcoal burners. His love for Arsule is the driving force behind his patient and honest labour.
From the score, Honegger produced two short suites. Both are recorded here. Suite I opens with a brisk, no-nonsense march. This Le Panturle movement also includes quite brutal and dissonant material. The 'Hiver' (Winter) and 'Printemps' (Spring) movements are spellbinding evocations, with winter's chill grip feeling harsh and relentless with only a chink of warmth emanating from a romantic motif, while the slow release of Spring gives the feeling of new life sprouting all around. The beautiful dialogue for clarinet and saxophone is the highlight of this ebullient movement. But the high point of this suite is Gédémus, le rémouler (Gédémus, the knife-grinder). This is a miniature tour-de-force as the music sparks like a Catherine Wheel to realistically evoke the Fernandel character (personified by a comical limping bassoon figure) at work. The suite closes with music ('Regain') that is as broad and majestic as the countryside yet also determined and as down-to-earth as its people. Suite II opens with a simple but very appealing rustic and child-like melody - Chanson d'Aubignane with its saxophone solo and goes on to 'Nocturne', surely one of Honegger's loveliest evocations with strings and woods singing over a pulsating ostinato. A scented picture this - one might imagine a glorious sunset with enraptured birdsong, the music lilting almost a lullaby. The rapturous mood is shattered by the material of the following cue 'Nuits dans la grange - Eté' that suggests a storm with shrieking gales, bolts of lightning and thunderclaps but peace is restored with the music returning to the mood of the Nocturne. Once more, the saxophone makes an indelible appearance. 'Le soc' brings the suite to a rather pompous conclusion. It has a short trio that vividly evokes a merry-go-round at at the village fair. The Regain score is one of Honegger's masterpieces for the cinema.
Le Démon de l'Himalaya (The Demon of the Himalayas) (1934/35) took its inspiration from a successful expedition to the Himalayas in 1930. The members of the expedition were pressed into service to act in this film. It tells the story of Norman an ethnologist, who has in his possession the mask of the mountain demon Kali Mata, a spirit that prevents ordinary mortals from climbing the Himalayan peaks against the will of the gods of Tibet. Norman's fiancée, who remains at home, smashes the mask enabling the expedition to overcome its obstacles. Honegger was inspired to write a powerfully evocative score for this film in the spirit of his music for Mermoz (reviewed on Film Music on the Web this month). From his score, a two movement suite was developed. Quoting Adriano: " The score, a real and important discovery, is conceived for large orchestra, without horns, but including two saxophones, Ondes Martenot, piano, harp, percussion and a wordless mixed chorus. The music is "realistic" and experimental for its period, at least as film music, and is built on extended ostinato accompaniments, precursor of today's minimalist techniques, and chromatically dissonant motif-cells. [The 'Tempête de neige' movement is a startlingly realistic depiction of blizzard conditions; one perceives a dense curtain of relentlessly falling snow occasionally swirled by icy gusts.] While 'Tempête de neige' has no leitmotiv, 'Ascension et chute', to which a later cue, the final episode 'Vision', has been added, is built on a passacaglia-like theme, interrupted by recollections of the demonic sounds of the brass heard in Tempête, leading to a climax through a short vertiginous [and blood-curdling sounding] cadenza for the Ondes Martinot. Again the passacaglia is heard, as a counterpoint to the hymn of the chorus ending on the Mixolydian mode on D."
Adriano mixes thrills with beauty in totally persuasive performances of rare film music which should be studied by young student film composers as an object lesson in what can be achieved without recourse to synths.
Reviewer
Ian Lace


Reviewer
Ian Lace

---
---
Reviews carry sales links
but you can also purchase
from: