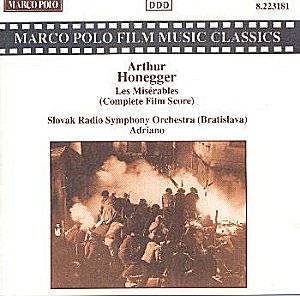 It was Miklós Rózsa who was so deeply impressed with this score that he urged Honegger to make a suite out of the music. "It was as good as anything he had written, and was worthy to stand on its own…It was dramatic and lyrical, and so much in his individual style that you would have known who the composer was even without seeing his name in the titles," Rózsa wrote of it. Eventually, Honegger followed Rózsa's advice and arranged some of the music from Les Misérables into a five-movement suite. This 19-minute suite was recorded by Adriano -- on MARCO POLO 8.223134. It was reviewed on this site last month (November 1999). This follow-up recording of the complete score, lasting practically an hour, was made two years later in 1989.
[Charles Koechlin also considered Les Misérables "undoubtedly one of the best film scores hitherto created.]
The score begins with the sombre 'Générique' (Main Title), intense and dramatic almost a funeral march; in this recording it is much extended over the previous version. The slow descending, resigned (in places even weary) march motif is related to the convicts. It's opposite is the ascending motif associated with the nobility and kindness of Jean Valjean and this is at once apparent in the more optimistic tread of 'Jean Valjean sur la route' with its appealing pastoral inflections and expressive saxophone figures (notwithstanding some shadowy material).
The score has its share of surprises. Quoting Adriano's informative notes (excellent although Marco Polo could have given us translations of the movement titles), "Honegger displays a curious experimental aspect in 'La foire à Montfermeill' where the reprise of the "source" folk music piece [sounding innocent and child-like with its accordion ostinato] has superimposed "psychological" glisssandi from trombones, tremoli, glissandi and col legno effects from the strings [striking the strings with the stick of the bow instead of playing on them with the hair] supported by the percussion. These effects are used to illustrate little Cosette's frightful nocturnal experience in the woods, before meeting Jean Valjean for the first time. 'Une tempête sous un crâne' is another movement of value and particularly dramatic in its impact: it emphasises a longer "conscience struggle" monologue by Jean Valjean." Music of compassion battles with darker material, here, collecting some grinding dissonances, starkly agitated figures and lonely remote material on the way. A truly impressive movement.
'Fantine' is almost unbearably poignant, music that pleads desperately and again the saxophone is used most expressively.
In opposition to the general morbidly oppressive atmosphere of this score there is the more buoyant pastoral/romantic music that celebrates the love between Cosette and Marius 'Music chez Gillenormand', using an ensemble of string octet and solo wind, recreates the chamber character of this cheerful rollicking piece. Clarinet and trumpet play a picturesque duet in this charming interlude.
When the narrative reaches Paris, 'L'emeute' (the riot) is epic revolutionary music and 'L'assuat' is very thrilling with Adriano's inspired insertion of an explosion effect for percussion instruments (an extra part for military drums was also found appropriate).
Dans les Égouts' (In the sewers) is a dark expression of superhuman effort and is based on a continuous rhythm of pairs of eighth-notes. 'La mort de Valjean' (The Death of Valjean) is a lovely deeply-felt cue, an apotheosis of the Valjean theme that employs trumpet and saxophone in the melodic line, with a continually modulating two chord ostinato figure passing from piano to strings.
A score that dwells a lot in dark places but is nevertheless a classic which adventurous film music enthusiasts should not ignore. Adriano gives a totally committed and excellent
performance
Reviewer
Ian Lace