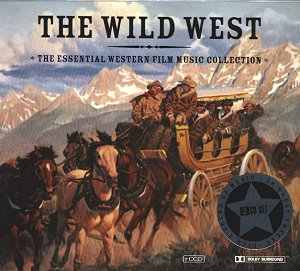 This is a generously-timed though occasionally 'rough and ready' two CD collection. The performances vary from the excellent to the ho-hum! Technical features are never less than good and the recordings are all 1990s vintage. Some of the tracks will be known from other (usually composer-themed) Silva collections.
There is a great deal of music here and for all the occasional lack of finesse it remains pretty consistently enjoyable. The chance to hear this wide landscape prompts many thoughts about cross-fertilisation of ideas within an admittedly rather inward-looking genre. Scores from the 'Golden Age' are meant to jump through particular and venerated hoops if they are to qualify for 'greatness'. For the most part these scores know where the hoops are, understand the clearance required and vault through them like practised athletes.
Although the title indicates a collection of film music there are a few attractive TV-originated 'black sheep' amongst the flock.
I will deal with the contents as I track through each disc. The first disc overtures with Tiomkin's Alamo theme, hymn-like with a fine swing prompting recollections of Smetana's Vltava. The Big Country's chattering strings and brilliant trumpet theme is presented without the sharp and crisp definition I had hoped for but the performance is respectably exciting. Buffalo Girls' cantina guitar-decorated siesta ride glows, with stetson down over eyes and the horse ambling along half asleep. Williams' score for The Cowboys has some punchy cut and slash and is perkily ear-catching. Dances With Wolves (John Dunbar Theme) has a slowly trekking wild prairie atmosphere. A Distant Trumpet is all jingling 'Boots and Saddles', blue serge and yellow bandanas - nothing at all ersatz about the performance! El Condor returns to the dry heat of the cantina but is dotted with lively guitar skits and jazzy material as if from Constant Lambert's Horoscope. The excellent guitar dominates and rings out close to our ears. A Fistful of Dollars is typically Morricone; like an ecclesiastical version of Nights In The Gardens Of Spain (de Falla). Sadly the cor anglais theme seems rather hurried in this performance. Gettysburg (Edelmann) is fulsome; blastingly steady and yet conveying tired repletion …. fatigued triumph and a splash of Waltonian splendour.
Glory is Horner in tribute mode. A choral/orchestral slice of Orff's Carmina Burana cut deep and bloody. Heaven's Gate has a Morricone-like guitar solo. High Plains Drifter is eldritch with solo soprano voices keeling, diving and rising on baking verticals. How The West Was Won is brazen dynamism in echt Western style. The Last Of the Mohicans represents Trevor Jones in superb clothing - a tortured journey of the soul. Lonesome Dove is rather tired Poledouris or at least reads that way here and I am not endeared by the 'Robert E Lee' dance conclusion. The Magnificent Seven lacks the zipping sharp clip and definition of the OST. In TV territory Maverick (Randy Newman) is off-beat jazz age stuff. John Barry's Monte Walsh is pretty ordinary while Morricone's Once Upon A Time In The West is dreamy but is rather compromised by a wobbly-voiced female solo.
The second disc opens with Jarré's Mexican hoe-down for The Professionals (OK but when is someone going to record the superb Jarré score for Enemy Mine) motivated by El Salon Mexico. The Outlaw Josey Wales sports a mouth organ solo. Jerry Fielding's The War Is Over evokes singing across battlefields. Jerome Moross's Proud Rebel steps from the pages of Dvorák's New World Symphony with a sprinkling of Copland's Appalachia and Red Pony innocence. John Williams Rare Breed is in a recent Williams collection as is The Cowboys - all exuberance and sounds dynamic and dapper. Red Sun is another score by Jarré. Tense and featuring some rather pathetic coconut hoof noises as well as some of the fine pacing of The Magnificent Seven music. Steiner's The Searchers is apocalyptic stuff with Janacekian brass and searching stellar high strings picking out an epic ride. She Wore A Yellow Ribbon is a return to authentic Boots And Saddles blue serge - gaudy music bursting with 1950s American consumerist confidence. A gas-guzzler of a score.
Silverado is by Bruce Broughton. The high kicking, superb horns are a hallmark of the Prague orchestra. Oddly enough the theme made me think of the music for Battlestar Galactica. Elmer Bernstein's Sons Of Katie Elder is another magnificent seven clone-echo done with zip. Not so much Son Of Katie Elder more son of The Magnificent Seven. The score for the John Wayne 'vehicle' Stagecoach was written by a committee of composers including the very interesting Louis Gruenberg whose pacy Violin Concerto was recorded by Heifetz. The score in brassily inconsequential. Another Wayne job: True Grit opts in Elmer Bernstein's hands for lyrical chamber textures than the blatant prairie stuff. Two Mules For Sister Sara is Morricone again with trademark plangent guitar, ecclesiastical atmosphere and 'teardop in eternity' sadness. The Unforgiven has a solo guitar again is Lennie Neuhaus's Claudia's Theme: excellent and worth pairing with Myers' Deer Hunter theme. It revels in a lovely sense of chaste sadness; a touch of Ravel's Infanta Défunte. Jarré is in the saddle again for Villa Rides; another 'clip clop' score struck through with Mexicana. Wagon Train is by Moross: all far-stretching plains and a calculating wide-stepping theme seeming to limn the prairie landscape in sound. Jerry Fielding's The Wild Bunch is an essay in violent Stravinskian music, jazzy with an invigorating slice Alex North; A film noir of a Western. Superb! The Wild Rovers is by Jerry Goldsmith and its tributaries from Copland and Kodaly meet in brash horn clashing, sadly undermined by kitsch clip-clop hoof-falls. Wyatt Earp is by James Newton Howard: lyrical like Poledouris's Lonesome Dove with horns prominent carried by soft ecstatic string writing. The Richard Markowitz score represents a sort of Patton goes West with a touch of jazz and (horrifyingly in this context) a hint of Mike Post's The A Team music.
The ones that got away: Percy Faith's superb music for The Virginian; the theme from The High Chapparal and the music from Blazing Saddles although quite who is going to measure up to the original solo vocalist I do not know.
The booklet (which I note does not give as much cast and plot detail as previous issues from Silva) gives date, director and lead actors.
I note that all the usual typos have been continued from previous issues. About time these were tidied up and removed:, 'micronsonics', 'compatable', 'sophisicated'. Come on fellas!
Reviewer
Rob Barnett
Ian Lace adds:-
I broadly agree with everything Rob Barnett says about this collection. The performances are uneven and CD1 is better than CD2. I was disappointed with the flat reading of Maurice Jarre's The Professionals and the excitement of the bouncy tune tends to have been drained from Jerry Goldsmith's Wild Rovers, for instance, but I enjoyed Lee Hodridge's Buffalo Girls, Maurice Jarre's El Condor, Randy Edelman's Gettysburg, Max Steiner's The Searchers and Bruse Broughton's Silverado despite the fact that the opening was poorly balanced - the main theme should have shouted out on the trumpet. But overall this is a pleasing compilation, big, bold and lusty - so pardners - Giddy-ap! Yahoo!
Reviewer
Ian Lace