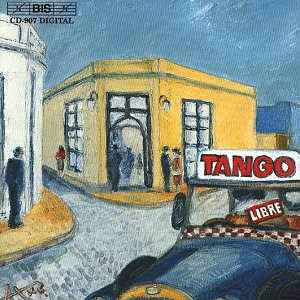 Al Pacino certainly started something with his tango in Scent of a Woman. Since then there has been a constant stream of albums celebrating the genre. This is one of the best. It is indeed free Tango - full of tang and bite. Right from the opening 'A fuego lento' (over a slow fire) you know that you are in for something refreshingly different. This piece regards romance with sour disdain. It is a hilarious send-up of the old fashioned Hollywood torrid tangos where you knew that at least one of the dancers was up to no-good.
These numbers are full of character, irreverent and sassy and the young ensemble play them with lusty abandonment. The El Chocolo is well-known but is given a very cheeky and mischievous treatment here. Each number is given an often terse description in the booklet. The one for this number is very anarchic - "It danced with me. She danced with me. He danced with me on the forest's covering of pine needles…They danced with me, it danced with me..But which of us was the fool? We were a fool." I wonder how many they, it, she, he had had??
In the instrumentation for Nostalgias you can almost hear the tell-tale tear-jerking of the man who has been deserted by his girl-friend but says he won't allow himself to wallow in his grief. There is a military like tango for Taquito militar and Porteña y nada mas is more of a South American waltz. The bitter Nocturna is described - "For the stars it is irrelevant whether someone is born or dead." Dame un fasco or Give me a fag (Frustrata del Tango) was written while the composer, Mikael Jöback, was unsuccessfully trying to give up smoking - no wonder he was frustrated!
Ida y vuelta comes with full 'libretto' - an ardent, passionate, even erotic love song with sweet violin writing.
Some of the tangos are strongly syncopated and have an equally strong jazz basis.
Well worth exploring
Reviewer
Ian Lace