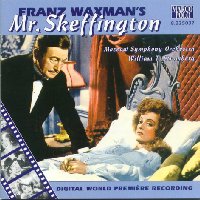 Bette Davis knew the value of film music. She keenly appreciated its power to flatter her and support her portrayals, focusing and intensifying the emotions of her characters and, often, revealing contradictions in their personalities. Davis took a keen interest in the composition of the music for her films. At Warner Bros, where she was under contract from 1932 to 1949, her films were scored by Erich Wolfgang Korngold, Franz Waxman and Max Steiner. They would all become very familiar with her screen characterisations. [Her favourite was Max Steiner, who contributed music for most of them - 20 in all.] But of Waxman's score for Mr Skeffington, Bette Davis told the composer's son, "Yes, now that was music!"
Excerpts from the scores of many Bette Davis's films were included in Charles Gerhardt's Classic Film Scores albums, notably "Classic Film Scores for Bette Davis" (RCA VICTOR GD80183) which included the strikingly atonal and advanced cue, 'Forsaken' from Mr Skeffington (Warner Bros. 1944). Fittingly, therefore, this new Marco Polo release carries the dedication - In Memory: Charles Gerhardt. [Gerhardt died on this year
In fact 'Forsaken' is one of the two climactic and most impressive cues in this new album. But first, a brief description of the film. Fanny Trellis (Bette Davis) marries the gentle rich Jew, Job Skeffington (Claude Rains) for his money but persists in her hedonistic lifestyle which includes many admirers. Eventually, an attack of diphtheria robs her of her beauty leaving her an ugly disfigured woman. Her suitors now only visit her because she might have money. Job returns after many years wandering about Europe on his own, and after suffering under the Nazis. He is blind and therefore oblivious of her disfigurement and so the film ends with Fanny at last finding fulfilment with her estranged husband.
Mr Skeffington was poorly received by critics and public alike when it was first released and not really appreciated until much later when it was seen by new audiences on TV. Waxman's score is film music of a very high order played by the Moscow SO on top form. They have clearly got into the stride of this series now and this is one of their best releases to date.
Waxman's score is heavily influenced by the richly romantic music of Richard Strauss. It is apparent in the brief storm music, in the wry humour that pervades much of the score especially in the scenes involving Fanny's many suitors where Waxman pokes mischevious fun at their foibles and, most dramatically, in the scene (the cue 'Finale') where Fanny descends the staircase to meet her now blind husband; here the music has quite eeie parallels with the Marschallin of Der Rosenkavalier.
The two main themes of Fanny and Job dominate the score. The former theme winds its way through self-indulgency to despair as illness ravages Fanny's beauty, to a glorious affirmatory 'Finale' as Job and Fanny are reunited. The music for Job on the other hand speaks of a stoic dependability and gentlemanly dignity. Much of the score's darker material surrounds the irresponsible activities of Fanny's self-destructive brother Trippy who is eventually killed in World War I which is held at a distance while Fanny continues to live life to the hilt. For the cue 'Forsaken', Waxman creates a disturbing, disorientated atonal atmosphere as the music swirls around Job's theme. Fanny, utterly desolated, finally accepts her predicament and at last appreciates the sterling worth of the husband she has largely ignored.
Waxman creates a sound world, which brilliantly evokes the sound and spirit of the age in which the film is set. In the orchestra you hear the honking of the automobiles as the first of Fanny's suitors arrive vying for her attentions, and you share the jazzy excitement and terror of the prohibition period. Waxman's gift is so acute that by some extraordinary alchemy Waxman he even succeeds in suggesting Davis's very individual gait.
Strongly recommended
Reviewer
Ian Lace
and another view from Richard Adams
I can't imagine a better memorial to the great Charles Gerhardt than this CD. Gerhardt made what I believe are still the greatest recordings of Franz Waxman's music for the disc entitled Sunset Boulevard, part of the Classic Film Score Series on RCA. That disc is arguably the highlight of the entire RCA series and featured great music beautifully played and recorded. Waxman has been a lot less fortunate with other recording teams who have taken up his cause. The four (soon to be five) part "Legends of Hollywood" series on Varese Sarabande suffers from less than virtuosic playing from the Queensland Symphony Orchestra while the playing of the Westminster Philharmonic Orchestra on the complete Bride of Frankenstein re-recording from Silva Screen doesn't even approach professional standards. Marco Polo's own re-recording of Rebecca with Adriano conducting is also marred by indifferent conducting and playing. (It's frustrating that record producers assign 2nd and 3rd rate orchestras for film music re-recordings. Since these scores are usually only recorded once, they should be afforded the best playing and recordings possible.) Korngold, Herrmann and Rozsa have been luckier in this regard. Varese Sarabande is using the excellent Royal Scottish National Orchestra to re-record Herrmann's scores while Varese, Decca, DG and Koch have used front-rank orchestras to record Korngold and Rozsa. Waxman is the equal of any of those composers and he deserves better recording and production standards. With this new recording on Marco Polo of his score to Mr. Skeffington, he finally receives it.
This is the finest recording of a Waxman film score since Sunset Boulevard (admittedly I haven't heard Elmer Bernstein's reportedly outstanding 25-year old recording of The Silver Chalice once available through his film music club) and this may also be the best film score recording issued so far from Marco Polo. Everything about this production is top-drawer. Mr. Skeffington at first seemed an odd choice to record. Why not Prince Valiant, Hemingway's Adventures as a Young Man, The Spirit of St. Louis, Peyton Place or Dr. Jekyll and Mr. Hyde chosen instead? I should have know better than to second guess John Morgan and Bill Stromberg! This is glorious music that features the same rich melodies, sophisticated harmonies, inventive scoring, invigorating rhythms and virtuosic contrapuntal technique that characterize most of Waxman scores. Listening to this or any other Waxman score makes one wonder why he bothered to write such fully developed music when he must have believed what he was writing would never be heard on its own. Whatever his reasons, his scores work extremely well away from the visual images that inspired them.
Ian Lace discusses the specifics of the score and film in his review above. I would like to re-emphasize what he says about the recording itself. The first few recordings in this series were marred by some less than polished orchestral playing. Bill Stromberg has obviously developed a great rapport with the players of the Moscow Symphony Orchestra and they have developed nicely under his direction. While you can still tell them apart from the very best orchestras, the differences are becoming increasingly insignificant. There are several bravura passages in this music which the MSO sails through without a hitch. Bill Stromberg's interpretation is everything a Waxman fan could wish for. The music has the necessary sweep but at the same time he is careful to assure that all the orchestral details come through clearly. He is aided with a good recording that is open, detailed but has an adequate amount of ambient warmth.
Mr Skeffington was trimmed by nearly 20 minutes at the time of its release in 1944. This required Waxman to do some last minute rearranging and cutting. Score reconstructionist John Morgan has gone back to the original sketches and has reinstated the cuts thereby lengthening several of the cues. This is typical of Morgan's dedication to authenticity as well as his commitment to present these scores in the best possible light. Morgan's involvement in this series is one of the principal reasons for its success. Finally, special praise must be given to Bill Whitaker's outstanding liner notes. The film and the music have been exhaustively researched and discussed in an essay that are as entertaining to read as they are informative. If only this was the standard that all companies followed in writing liner notes. This disc is strongly recommended.
Reviewer
Richard Adams