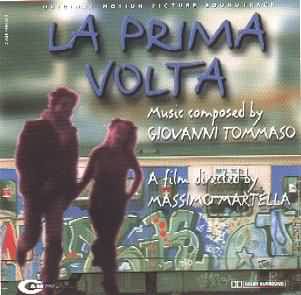 For this 1998 Italian arthouse film about a group of young adults recalling their first erotic experiences, director Massimo Martella hired famed contemporary jazz musician and composer Giovanni Tommaso. The result is surprisingly eclectic, if occasionally off-putting.
Contemporary jazz, frequently with a techno beat, obviously dominates the soundtrack. Precise, undulating rhythms, bass accents, and improvised cadenzas wildly perforate the music. It is an acquired taste, a propensity I admit I do not have in abundance. Why useless droning seems to be gaining popularity as film composing technique, I have no idea, although Tommaso does spare listeners from excessive
doodling. For diehard fans of orchestral music, however, it is a style difficult to approach with any great comfort. Lovers of the jazz and techno genres will undoubtedly enjoy it more. I am not among them, as I said. Nevertheless, one must say this product is functional, interesting, the creation of someone with a high degree of musical skill. It improves with multiple listenings, partially because there is more to it than what initially meets the eye (ear?).
There are a couple of relatively unobtrusive songs ('G. & E.,' 'You and me house' -- both composed by Tommaso and Enzo Lo Greco). The easy listening moments, such as a relaxed love theme ('Noi due') and the intro to 'Soft and hard,' are welcome islands amidst the hullabaloo. "La Prima Volta" also features a wonderful small ensemble consisting of piano & keyboards, classic guitar, acoustic guitar, electric bass, drums, and contrabass (the last performed by the composer). It is a well-produced disc, but short, and a possible gamble. The sole guaranteed recommendation goes to those who enjoy these strong pop influences, otherwise the disc is... experimental.
Reviewer
Jeffrey Wheeler
Reviewer
Jeffrey Wheeler