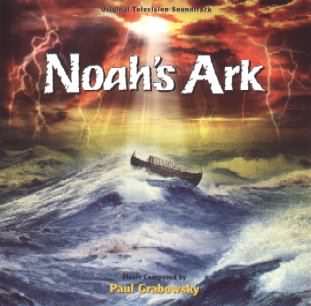 Every once in a while a score comes along that is non-committal to the point of sad triviality. That the television score to Hallmark Entertainment's "Noah: Warrior Carpenter" (officially titled "Noah's Ark," though most people know this particular morality tale without the hokey dialogue, Photoshop special effects, comic relief, and steady stream of period anachronisms) is so thoughtlessly derivative and hit or miss is an affront to the story it attempts to support and recreate. The music, like the TV mini-series itself, is loaded with big names that are not there because of their usefulness, but because they fill a questionable business requirement to have contemporary distractions for the benefit of great unwashed masses. Unlike the TV mini-series, the musical leads and cameos here receive no proper credit.
There are appearances by Horner, Stravinsky, Wagner, Mancini, and a host of others, all unaltered, all cheaply used with obnoxious wit and reason. For instance, the highlight of the score, a whimsical ditty called 'March of the Animals' ultimately leads nowhere, except perhaps to a ludicrous (but gratefully brief) James Horner to Danny Elfman hybrid of "Edward Scissorhands" and "Titanic" that is nonetheless the score's emotional peak! The orchestral rumbles used to evoke the power of God make The Almighty sound like He has a bad case of indigestion. The sentimental music is a rehash of every third-rate cinematic love theme in existence. Attempts to provide an 'ethnic' feel to the score often result in what sound like a tone-deaf camel chewing an oud rather than a musician playing one. Sure, it is easily accessible and listenable, but for much the same cause that slows people down to look at a tragic accident.
Zero originality, no credibility. It should be an embarrassment, but it is so lackadaisical that it offends most on account that it neither offends nor delights on its own. It is empty twaddle. *No* film score should be indifferent. That the same people who hired Richard Hartley to write the magical score to "Alice in Wonderland" approved this moth-eaten patchwork is a catastrophe. Everyone's been there, and done too much of that. The score doesn't even have camp value.
Reviewer
Jeffrey Wheeler

&

Reviewer
Jeffrey Wheeler


&