Excerpts from:-
Hilary and Jackie - Elgar: Cello Concerto
The Big Lebowski - Korngold: Die tote Stadt
Bulworth - Sousa: Stars and Stripes Forever
Rounders - J.S. Bach: Brandenburg Concerto No. 1
La vita e bella - Offenbach: The Tales of Hoffmann

The Proposition - Schubert: String Quartet D.804
The Truman Show - Chopin: Piano Concerto No. 1
Star Trek - Insurrection - Haydn: String Quartet Op. 64 No. 5
Elizabeth - Elgar: Enigma Variations MIKE POST
Babe - Pig in the City - Saint Saëns: Symphony No. 3
The Thin Red Line - Fauré: Requiem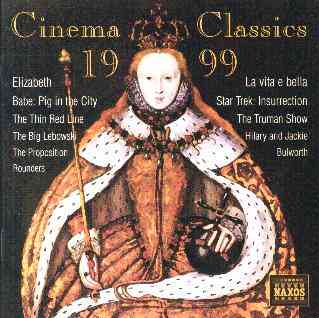 Although films are still happy to spot the odd bit of classical music, there's been a tail off of its representation on disc. Soundtracks are too focused on the pop song to have space for a classic. Perhaps one reason behind this is the often flimsy excuse for a bit of classical music in a film in the first place. Take Star Trek: Insurrection - as with the TV show, it was basically Captain Picard's penchant for certain pieces that meant we got the odd 10 second burst.
Thankfully, the rest of this disc has found those few others that over the course of the last year were savvy enough to know how to comprise a rounded movie soundtrack with pieces welcomly familiar to us all. It was very pleasant to see Elgar championed by two Oscar nominated films. Reviews of both Hilary & Jackie and Elizabeth can be found elsewhere on this site. Their particular use of the music is discussed at length.
A couple of interesting thoughts occur working through the pieces on disc. For The Truman Show, "Chopin's Piano Concerto No. 1" was obviously influential on the style director Peter Weir communicated to his two composers (Philip Glass and Burkhard Dallwitz). Likewise, "Offenbach's The Tales of Hoffmann - Barcarolle" would appear to have lent itself to Nicola Piovani's romantic side in Life Is Beautiful.
Glossing over the fact these are all from Naxos' stock catalogue, the performances are all rather super, and the sound is consistently excellent. All the time movie CDs fail to deliver the goods, it will be down to this on-going series to make amends.
Reviewer
Paul Tonks