Themes from: Hope Floats (Dave Grusin); Message in a Bottle (Gabriel Yared); Ever After (George Fenton); Life is Beautiful (Nicolai Piovani); Bridges of Madison County (Clint Eastwood/Lennie Niehaus); Shakespeare in Love (Stephen Warbeck); Sense and Sensibility (Patrick Doyle); Cinema Paradiso (Ennio Morricone); Meet Joe Black (Thomas Newman); My Best Friend's Wedding (James Newton Howard); My Heart Will Go On from Titanic (James Horner); You've Got Mail (George Fenton); Theme in Search of a Movie (Grant Geissman).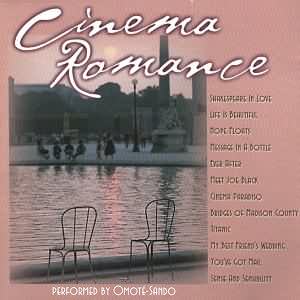 The first thing to make clear is that these are all new recordings; the material is not from the original soundtracks. The tracks are all arrangements performed by Omoté-Sando - guitar, cello, reeds, piano and percussion. As can be seen from the list above these are all relatively new films and it has to be said that in the main the melodies are undistinguished and unmemorable. Having said that, this is most relaxing and soothing music played at a slow tempo just right for easy listening late at night and for smooching with someone special.
Of the 13 tracks, I warmed the most to the music for Bridges of Madison County in a laid-back and quasi country and western style; the bitter-sweet, cello-led music for My Best Friend's Wedding and the silken guitar-led sweet sentimentality of You've Got Mail. The last track, 'Theme in Search of a Movie', is something of a mystery for which the booklet provides no solution but it ripples along pleasantly enough.
Reviewer
Ian Lace