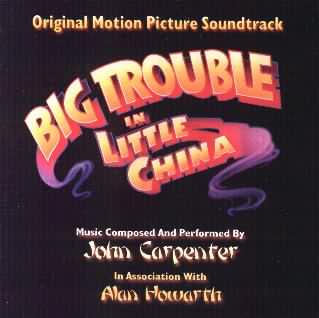 Without a shadow of a doubt, this was one of the most kooky movie concepts ever. It draws on elements from lots of cinema genres, but ultimately comes off most closely to the spirit of a live-action comic book.
Carpenter's style of music lent itself to this movie perhaps more than to any of his others. Halloween has little actual musical content beyond its well-known theme. His guitar and synths style has more properly served the tongue-in-cheek humour of his other work (They Live, Prince of Darkness, etc.). When it came to his most deadly serious piece with The Thing he knew to hand the reigns over to someone else (Morricone).
For Big Trouble the oriental look and setting dictated some of the sound palate up front, but all the guitar and sample percussive licks are distinctly his own. Having said that, this is once again 'in association with' Alan Howarth. Their collaborative relationship is chronicled elsewhere. Concentrating just on the end result, we must be thankful that whichever way around they worked neither one wanted to break up the fantastically lengthy cues.
With one at 10 minutes and four more over 6, this is almost like listening to a concept album that's experimenting through purpose designed patches. It's like a self-contained world in here, with the rapid beats hardly ever letting up. It would take forever to list all the throwaway inventive moments too. Suffice to say you'll most likely be buying this because you always loved it in the movie. You won't be disappointed, especially with the extra material.
There are bonus tracks from Backstabbed, which is a Howarth standalone. The electric guitar performance in "Opening" is markedly different from anything you'll have heard earlier on the disc. The three cues are more subdued than Big Trouble's, with 'Blue Planet Interlude' turning out to be a rather touching piece.
Finishing the disc (and Carpenter fans) off completely is an unreleased cue from Escape From New York. The 'Atlanta Bank Robbery' is an accumulative finger-snapping rhythm that makes for a fun climax.
And just how is it that promo discs like this can have far better packaging than regular commercial releases ?
Reviewer
Paul Tonks