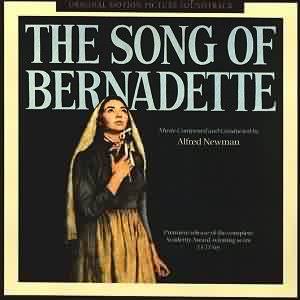 Released by 20th Century Fox in 1943, The Song of Bernadette was nominated for 11 Oscars. The film won four: for Jennifer Jones's glowing portrayal of Bernadette Soubirous, the 14 year-old peasant girl who saw a vision of the Virgin Mary in a grotto which would become the religious shrine at Lourdes in southern France; for cinematography; interior decoration and for Alfred Newman's score.
Newman always considered this score to be something very special. A Fox publicist at the time reported that "He delved extensively into old French songs and Gregorian chants" in his preparatory researches. While Europe was engaged in the bloody conflict of World War II, it was clearly impossible to obtain on-the-spot material and "colour." By sheer coincidence, however, a lady, hired as an extra, turned out to be from Lourdes and her late husband had been organist in the Basilica there. One day she arrived on the set carrying music that her husband had played, wondering "if the studio might be interested?"
The music for 'Bernadette was the "biggest musical project in the history of the studio" employing an 80-piece symphony orchestra and several choirs. Newman's wonderful music for the scene in which Bernadette sees the Virgin Mary caused him some anxiety. He considered musical styles like those of Schubert and Wagner but dismissed them. In the end, he remembered that Bernadette never claimed to have seen anything other than "a beautiful lady." He therefore chose to interpret the event not as a divine revelation, but as he said later, "as an extraordinarily lovely experience that came to a young girl, who was not sophisticated enough, either intellectually or religiously, to evaluate it as anything other than a vision of beauty."
The beautiful main theme has purity and nobility. There is also an imposing brass chorale to represent the might and majesty of the Church and a Wagnerian-style motif - romantic yet spiritual - to represent the vision of the Grotto of Massabielle.
Newman's music undeniably played a major part in the success of the film. Newman very sensitively conveys and heightens Bernadette's unshakeable belief in what she had seen, the scepticism of the local municipal and church officials, even members of her family, and the discovery of apparent healing powers of a nearby spring.
The second CD includes some interesting material - four cues (including an affective alternative 'Commission Convenes') and three unused cues.
But does the music work away from the film? I find myself torn between an emotional affection for this well-loved score and a more reasoned conclusion that like Newman's score for The Greatest Story Ever Told there is too much material on one level. Some may feel that over 100 minutes of Newman's high-strings piety is rather too rich a feast.
Jon Burlingame's notes are illuminating but he tends to be rather too reverential. He tells us that Newman was the most honoured composer in Hollywood history: forty-five Oscar nominations and nine Academy Awards. One therefore wonders why there are comparatively few albums of his music. A close look at the record reveals that many of these nominations and awards were for music direction or for arranging other composer's music (eg 1953 Oscar for musical direction for Call Me Madam - it was Irving Berlin's music; and his 1956 Award for musical direction for The King and I - this music was, of course, composed by Richard Rogers. Then one must consider Alexander's Ragtime Band (1938 Oscar) again with music by Irving Berlin and With A Song in My Heart (1952 Oscar for music direction). These facts are often overlooked to the detriment of the reputation of other composers. Thus, by my reckoning, John Williams must now equal, if not lead in the Oscar stakes for highest number of accolades for original compositions. [Alfred Newman was the head of the music department at 20th Century Fox as well as being one of that studio's major composers. In effect, therefore, he was something of a combination of Warner Bros.' Leo Forbstein and Max Steiner ]
Reviewer
Ian Lace