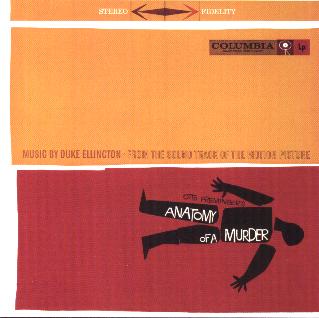 Duke ELLINGTON Anatomy of a Murder Columbia / Legacy CK 65569 [75:57]
'Crime Jazz' is a sound you can't help but love. Despite the pastiche development from the likes of Police Squad, it has never become so cliché that anyone using it for sincere dramatic purposes cannot do so without inadvertently raising a smile in the audience.
Can it really be 100 years since the birth of Duke Ellington ? Did it really take Hollywood so long to embrace his talent ? This wonderfully expanded album shows how at 60, Duke was still more than on top of his life and career. The sheer energy and dynamism in every cue is incredibly infectious. If only some of the interminable court dramas produced today would take a leaf out of this success story's book...
At CD capacity length there is way too much to chronicle musically. The jazz tenets are as inspired as you would expect - often surpassing expectation with breakdowns or staccato rhythm for particular effect to picture. In two halves, the collectible aspect to cover here is the latter section which is chock full of unreleased goodies. There are rehearsal takes, a collection of stings, alternate and deleted takes, and even Duke's own rehearsal for his cameo role !
Reviewer
Paul Tonks