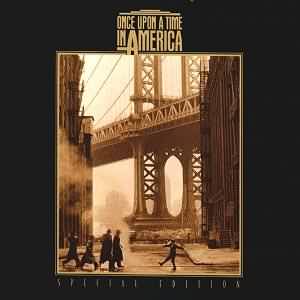 This is a very welcome return of a classic score now presented in a marvellously refurbished CD format with substantial new material omitted from the original 1984 release.
Sergio Leone's Once Upon a Time In America starred Robert de Niro and James Woods. It was a saga of a bunch of gangsters set in 1923, 1933 and 1968. For Leone, it was much more than just a gangster movie - he conceived an almost dark operatic treatment about society's outcasts, friendship and betrayal.
Incredibly Morricone's much-praised score was not nominated for an Oscar in 1985 because of an administrative oversight as the Ladd production company was winding down. (The film was distributed by Warner Bros. They would probably have been more awake to the opportunity). The film, itself, was not a success at first; its greatness appreciated only when its full complexity became apparent when the complete over 220-minute version appeared on TV and home video.
Morricone's haunting music is sentimental, melancholic and nostalgic emphasising the sadness, the tragic fates and camaraderie of the gang. The main theme of the film immediately establishes this mood. It appears in two forms. The first is more serious and string-dominated for the '30s and '60s segments of the film, while a more carefree and jaunty version, using a brighter jazz-band orchestration, reflective of the 1920s in 'Friends' dominates the '20s segments. In the early cue 'Poverty' and even more so in the later 'Childhood Poverty', the composer evokes the boy's harsh early lives in the New York ghettos with appropriate period sounds of saloon piano, mandolin and recorder. This memorable, yearning, reaching theme starkly suggests why the boys turn to a life of crime. Just as Morricone used a harmonica to telling dramatic effect in Once Upon a Time in the West, so he uses a pan flute here for 'Cockeye's Song.' Cockeye is one of the original gang and often seen playing the instrument. Morrione cleverly uses this theme in some of the most dramatic and violent moments of the 1923 segments of the film.
There is much use of the period song 'Amapola' in various forms such as a chamber ensemble, as a counterpoint to Deborah's theme and in a slow version with clarinet playing the melody (on an old Victrola record player) to accompany the young Deborah as she rehearses her ballet steps while the young Noodles (de Niro) spies on her through a keyhole). De Nero's love for her is never consummated and so Morricone's gentle theme for Deborah is correspondingly sad and wistful. Other source music features strongly ranging from Cole Porter's 'Night and Day' to Lennon and McCartney's 'Yesterday.'
Morricone makes much use of jazz in his score especially in relation to the stolen pleasures of the speakeasies and prohibition where it suggests wild, raucous parties.
There are some substantial additions in this new format with a suite of previously unreleased music comprising interesting alternative treatments of the main themes and cues not used in the final cut of the movie. It also contains some intriguing atonal music for the more violent and suspenseful episodes of the film. A further unused cue is also included which is another haunting piece very much in the mood of the other main themes.
The packaging is superb with a 16-page colour booklet containing many stills from the film, production photographs and most informative notes by Jon Burlingame.
Excellent; recommended.
Reviewer
Ian Lace