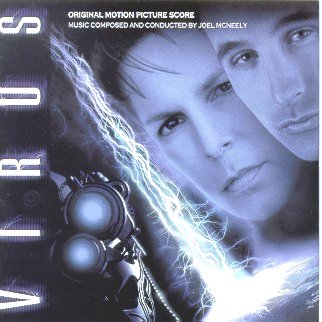 Aliens, Back to the Future, LA Confidential - they're all here. Yet this is a cracking piece of nonsense for a movie deserving of such. Male chorus, big brassy fanfares, and ear-splitting crashes of noise all conspire to convince of the end of the world. Perhaps when it does, McNeely might be considered the chap to compose an Armageddon Symphony. I simply have to mention "Typhoon Leah" which is one of the most coherent action cues I've heard in some time. I remember recommendations for "Cadillac Freefall" from Terminal Velocity, and with the same degree of preposterousness about this movie, I suppose it's fitting there should be something in common in musical approach too. You really can tell there was some fun had in going over the top here. Although I've cited some obvious influences already, what their incorporation into McNeely's original music shows is just how damn fine an orchestrator he has in David Slonaker. Then it follows that it also shows how great a conductor he is - which we should already know from the Varese recordings.
This will never be music to relax to I'm afraid. You need an occasion about which you need to be considerably 'fired up' up to really appreciate it. I recommend listening to it while you're about to review a CD !
Reviewer
Paul Tonks

And Rob Barnett adds:-
Violence (Squeaky Gets Creased - track 5), threat and paranoia run through the veins of this music like an infection. This is no criticism. Although there do seem to be many scores occupying this territory Joel McNeely's is an estimable effort. The sense of panic and horror running amok in the streets is strong in Seven Footer Chase. At just over fifty minutes the pretty consistent atmosphere is nicely calculated. The music is quite fresh which is a tribute to composer and orchestrator in a world of 'conveyor-belt' scores written down to deadlines. There is a totally unexpected (spoilt it for you now) 'Russian choir' in the end-titles. This final track is rather a welcome relaxing contrast with all that has gone before.
The notes are non-existent. There are the accustomed stills from the film and a list of personnel together with other scores from the Hippo 'stable'.
Joel McNeely is active both as composer and conductor. His revivals of Herrmann scores on Varese Sarabande have been especially fine. He is also a composer of considerable strengths and promise. I would not be surprised if he does not produce at least one 'all-time great' over the next decade. Until then this CD is worth hearing but is not outstanding.
Reviewer
Rob Barnett