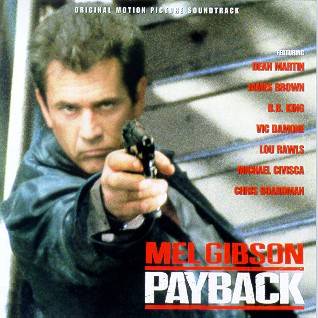 An interesting collection of material which includes Chris Boardman's music for the film which is well worth listening to..
For any fan of the classic "singing legend" backed by Big Band or Large Orchestra, the first part of this album is a must. The tracks are:
1. Ain't that a kick in the head Dean Martin

2. It's a Man's Man's Man's world James Brown

3. The thrill is gone B B King

4.Smoke gets in your eyes Vic Damone

5. If I had to live my life over. Lou Rawls

6. Luck be a lady Michael Civisca

7. You're nobody till somebody loves you Dean Martin

8. Main Title Chris Boardman

9. Lynn's Habit Chris Boardman

10. Porter Croaks Carter Chris Boardman

11.Warehouse/Finale Chris Bordman
It is a shame that the sleeve note for this album is so uninformative, not even the name of the Musical Director is given for the first seven tracks, let alone the names of any of the excellent studio musicians who perform on them. "Ain't that a kick in the head?" is Dean Martin at his best singing with a top quality Big Band which is well recorded and well balanced. The trumpets are outstanding. James Brown's backings on "It's a Man's, Man's, Man's World" are more orchestral in nature, but again very well executed. B B King is a classic Rhythm and Blues man, the backing to his track
has a heavy fourth beat in each bar! There is some good R&B guitar on this track called "The thrill is gone." Vic Damone has an excellent voice, although his vocals have less of a jazz feel than others on this album. "Smoke get's in your eyes" has him in good form, his intonation and diction on this fine old song are excellent.
Lou Rawls has a superb Big Band backing on "If I had my life to live over, the Rhythm Section has a Count Basie swing and feel about it. I liked this track a great deal. "Luck be a lady to-night" finds Michael Civisca, who I must admit is new to me, in good form. The track has an interesting backing, well scored and well performed.
The final vocal track brings back Dean Martin with "You're Nobody till Somebody Loves You", complete with 'heavenly choir', I prefer the first track!
Chris Boardman's Main Title is a medium tempo Latin American theme, somewhat similar to other main title themes for similar movies. It is immaculately played by a large orchestra, the work of the Guitars and Percussion dominates. It patiently builds to a climax and then gradually fades away. I had not heard it before and I enjoyed it.
"Lynn's Habit" should do well in the charts at present, Requiem music is all the vogue and you could not in any way call this track cheerful, although I am sure it caught the mood of the film.
Porter Croaks Carter has us back with the Latin Sound and as a track it is short but enjoyable. Warehouse/Finale closes the album, I found Chris Boardman's music interesting, quite complicated and very well played, it is easy to see how it would make a significant contribution to the enjoyment of the film.
Reviewer
Don Mather