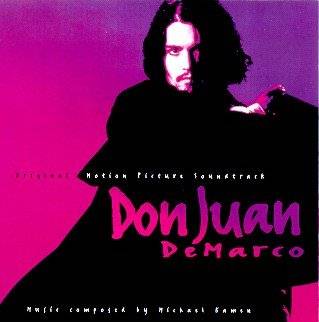 I found a copy of this 1995 album in a store in South London proving that you can find older OST recordings if you hunt hard enough! I have to confess to having enjoyed this fantasy movie very much and I reckon that this is one of Kamen's best scores to date. His music is a perfect match for this slight parable. It treads, with ease, a very fine line between wry romantic comedy and bathos, helping to make the story of the young masked Zorro-like hero credible, and making us believe in the Don's sexual exploits and his search for true love - his Doña Ana. Depp as Don Juan is excellent with a large-framed Marlon Brando in top form as the psychiatrist assigned to the Don's case who comes to doubt the Don's insanity even if he, himself, is not quite so convincing in romancing his screen wife, Faye Dunaway.
Appropriate to its fantasy setting Kamen uses heavily romantic, fragrant even, Latin music employing guitars (Julian Bream is one of the listed players) plus sweet violins and cello soloists. The opening track, the song "Have You Ever Really Loved a Woman", sung by Bryan Adams, is very much in keeping with the Don's philosophy and his opening-scene, "last" seduction. The remaining tracks are all instrumental and although there is little variety the colour, vivacity and charm of the music carries it triumphantly through.
The vibrant opening "Habanera" is, like the Don, proud and haughty, and tenderly romantic. Another luscious tango serves to characterise "Don Juan" and gives the violin soloist, Christopher Warren-Green, and the guitarists the opportunity to show off their virtuosity - and the cello solo adds a touch of warm nostalgia (but surely the soloists breathing could have been edited out). A sweetly romantic serenade with melodramatic overtones informs the witty Korngold-like "Love at First Sight (Mother and Father)" cue. "I was born in Mexico" has well-known Mexican folk material fragrantly embellished by guitars and cimbaloms (or mandolins?). Doña Julia and Don Alfonso have slightly darker, sensuous; and then sadder more melodramatic material appropriate to Julia's seduction of the young Don and therefore the betrayal of Alfonso, her husband, the duelling, and the tragic deaths of Alfonso and the Don's father that ensue. Again, through both tracks there is plenty of opportunity for the soloists to show off their talents through Kamen's colourful and dramatic but wittily ironic writing that includes a very obvious and appropriate reference to Bizet's Carmen. These two tracks, in themselves, are worth the price of the CD.
Don Juan's self-imposed exile in Arabia allows Kamen the opportunity to vary his palate to introduce material that suggests the heady atmosphere of the harem. It is not long before the Don's more Latin theme interjects, however, as he is pressed into service by not only one of the Sultan's wives but the rest of the ladies of the harem. This is another very witty creation again brilliantly orchestrated.
"Don Octavio Del Flores", the Marlon Brando psychiatrist's self-imposed persona, used originally to treat the Don, ultimately takes Brando over. This cue is his portrait. It not only underlines the loneliness and sadness of his character, as he faces the end of his career, but it also expresses the essential warmth and romanticism that Don Juan De Marco makes him discover within himself. This is manifested when he waltzes his wife around the Paradise where Don Juan is finally reunited with his "Doña Ana"
A magic album for incurable romantics and a wonderful souvenir of a lovely film.
I wish readers well in searching for their copy – perhaps A&R might be persuaded to reissue it?
Reviewer
Ian Lace

Reviewer
Ian Lace