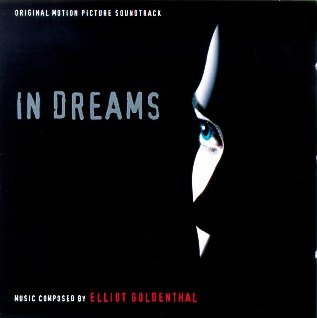 Elliott Goldenthal is one of the most original voices in film music. His style is eclectic and he often surprises. Probably one of his strongest influences is the music of Bernard Herrmann; it is certainly very apparent in this new score. He also combines electronic with conventional music more successfully than most. In this instance, however, he is not always successful – that is to say in creating a score to listen to as opposed to its primary purpose in supporting what looks like, from the pictures in the CD booklet, a dark and violent, psychological thriller. (Accepted that this may well be due more to this CD's production process.) With this thought in mind, I raise a point of general principal. I do wish that more producers would develop a more mature taste and edit out repetitive synth effects before they become tedious and threaten the poor listener with wracking headaches. This score, more than many, illustrates that acoustic music always wins hands down over synth. The inhuman mechanistic output of the latter (I hesitate to call it noise because when used imaginatively it can be very acceptable) has very marked expressive limitations.
To the music: Goldenthal imaginatively uses a string quartet as well as an orchestra and synth effects. The opening cue begins with the string ensemble playing spiky, angst-ridden material, reminiscent of Herrmann and Psycho, appropriate to the cue's title, "Agitato Dolorosa". About half way into this cue, the orchestra enters adding weight and more gravitas, the material is black-shadowy with a hint of bats-wings flutterings. It's the stuff that nightmares are made of. The entry of the electronic material, for me, ruins the atmosphere. This feeling of being let down comes again later in an arresting cue "Scytheoplicity" in which racing string figures vividly suggest flight and fear but this inspiration descends into bathos when guitars enter to play some very banal material.
Lest I seem to be harping too much on the negative aspects of this score, I must add that there are undoubted strengths. I liked the meditative solo piano music that is "Claire's Nocturne". "The Pull of Red" is strongly atmospheric and sinister; "Rubber Room Stomp" has saxophones arguing across the soundstage over agitated strings and soft muted brass growlings. "Rebecca's Abduction" mixes the serene with the starkly dramatic, a most violent cue. The combination of electronic and conventional music is most successfully achieved in cues like: "Premonition" (strongly featuring the String Quartet) and "While We Sleep". "The Andante" is anything but peaceful; the piano might meander serenely but below lurk agitated strings and synths representing the threat in the shadows, the only relief coming from occasional warmth provided by solo violin and cello. "Elegy Ostinato" is as the title suggests; another impressive and strongly accented cue building up to a big peroration.
The album is rounded off with source songs featuring Roy Orbison, The Andrews Sisters and Elizabeth Frazer.
An interesting score with some undeniable strengths
Reviewer
Ian Lace

Paul Tonks adds:-
With apologies in advance, I disagree with the rave reviews I have seen for this score. Although I thoroughly appreciate the aural landscape style Goldenthal has cultivated I rather feel that this score offers little new in that department.
I adore his scratching and bleating as well as his angelic chorus and hugely tragic adagios. Something this time just doesn't hold it together for me. One major disturbance are the source songs thrown in the middle. After the mad, bad guitar thrashings of "Scytheoplicity" you really don't need to be crooned at by Roy Orbison with "In Dreams". I'm surprised Varese of all labels don't appreciate the listener's preference to have these left for the end of the disc. Perhaps this was a deliberate design by Goldenthal. Sometimes a song can blend nicely into the scores framework. I must be missing something here though.
It all bears so much similarity to Heat, Interview With the Vampire, and other bits and bobs that it's left me quite frustrated that the wonderful relationship he has with Neil Jordan might be leaking creative juices. Everyone's entitled to an off day right ? Composers and reviewers both...
Reviewer
Paul Tonks