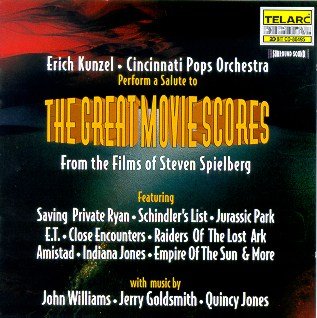 The dedicated film music fans regularly visiting this site will no doubt have most, if not all of these scores already in their collection so the performances have got to be something special to tempt further investment. The answer, sadly, is that they are not.
On the credit side, there are some valuable inclusions including John Williams's early music from Sugarland Express and Jerry Goldsmith's lovely Carol Anne's theme from Poltergeist performed here with children's choir and the 1941 March. But too often, (presumably because copyright requirements dictate arrangements such as these?), the charm and emotional directness of the originals is lost. I was especially disappointed with Kunzel's treatment of Jaws (heavy dynamics at the expense of an atmosphere true horror , E.T., Close Encounters…, Empire of the Sun (all without charm and too heavy-handed) and, particularly, the "Hymn to the Fallen" from Saving Private Ryan that failed to move me as John Williams's original OST recording did I return to a well-worn theme of mine, you cannot improve on the originals especially when the originals are created by such masters as John Williams. Buyers should also be aware that some of the tracks have been previously issued. Disappointing.
Reviewer
Ian Lace