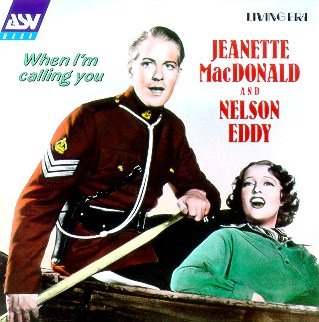 Indian Love Call; Rose Marie; The Mounties; March of the Grenadiers; Beyond the Blue Horizon; Ah, Sweet Mystery of Life; I'm Falling in Love With Someone; Tramp, Tramp, Tramp Along the Highway; Dear, When I Met You; One Hour With You; At the Balalaika; Isn't It Romantic?: Vilja; Toreador's Song; Waltz Aria; Farewell to Dreams; Will You Remember?; Sun-up to Sundown; One Kiss; Softly, as in a Morning Sunrise; Lover, Come Back to Me; Smilin' Through
Nelson Eddy Through the Years ASV CD AJA 5254 [78:01]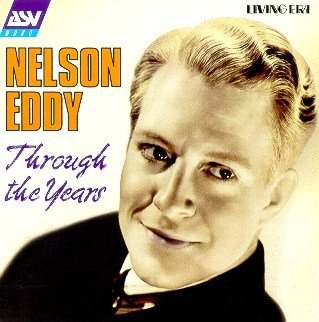 Ah! Sweet Mystery of Life; When I Grow Too Old to Dream; Dusty Road; Through the Years; Smilin' Through; At Dawning; Trees; Thy Beaming Eyes; The Hills of Home; Sylvia; Señorita; Who Are We To Say; Kashmiri Song; Ride, Cossack, Ride; Stout-Hearted Men; Wanting You; Dear Little Café; Tokay; I Married an Angel; Strange Music; Without a Song; Oh, What A Beautiful Mornin'; Nearer and Dearer; Love is the Time; In the Still of the Night.
I have to confess to a nostalgic affection for the singing of Jeanette MacDonald and Nelson Eddy. Rose Marie was the first film I ever saw - in the company of my parents when I was about five. (I hasten to add that I saw it during one of its frequent re-releases in the early 1940s!) Eddy and MacDonald were rudely known in some quarters as The Singing Capon and the Iron Butterfly but this does the very popular duo that made eight films together, most of which swelled MGM's coffers, a grave injustice.
Jeanette MacDonald (1903- 1965), with that lovely shock of red hair (only seen in her later colour films), and big toothy smile, had a silvery light lyric soprano voice which was very much of its era. Her style of delivery, timbre and pitch is dated now. Before she teamed with Eddy she had appeared in a number of successful Hollywood musicals for Paramount directed by the great Arthur Lubitsch and Mamoulian opposite Maurice Chevalier. In the When I'm Calling You album (released in 1994), there are two songs from this era: "March of the Grenadiers" (The Love Parade) and "Beyond the Blue Horizon" (Monte Carlo).
Nelson Eddy (1901-1967) arrived in Hollywood in the wake of a very successful career on commercial radio. He had also sung art songs and had appeared in opera including works by Richard Strauss and Berg. Writing about him in the new Through the Years CD just released, Peter Dempsey says: "…without celluloid, his rating would have been less universal for, while certainly stylish, virile and appealing and a self-critical artist, in voice and range Nelson was no Richard Bonelli, no John Charles Thomas nor (more particularly) a Lawrence Tibbett, the long-resident star of the New York Met who had preceded him as a baritone screen-idol. That he early realised certain limitations in no way diminishes his achievement. Rather, it is to his credit for, despite the uniform volume and restricted top register, the fixed "forward", slightly nasal production and comfortably predictable colour, the melodious, forthright, manly sincerity of Eddy's ballad-singing can never be underrated.
The first 1994 album includes the immortal duet the Indian Love Call (When I'm Calling You) from Rose Marie plus MacDonald and Eddy singing together in "Ah Sweet Mystery of Life" from Naughty Marietta and "Will You Remember" from Maytime. The 22 numbers that comprise this first album also include many popular MacDonald solos including: "Dear When I met You", "One Kiss" from The New Moon and Vilja from The Merry Widow. Eddy thrills with his renderings of "Rose Marie", "At the Balalaika" from Balalaika, and "Lover, Come Back to Me" from The New Moon etc.
The new album comprises 25 Nelson Eddy solos ranging from the stirring "Ride Cossack, Ride", "Stout-Hearted Men" from The New Moon and "Tokay" from "Bitter Sweet" to the romantic "Smilin' Through" and "Wanting You" from The New Moon, and Cole Porter's "In the Still of the Night." One or two art songs are included including Amy Woodforde-Findon's, Kashmiri Love Song and songs from shows in which Eddy did not appear including "Oh What a Beautiful Morning" from Oklahoma.
Marvellous souvenirs.
Reviewer
Ian Lace
| | |
| --- | --- |
| When I'm Calling You | |
| Through the Years | |
Reviewer
Ian Lace

&