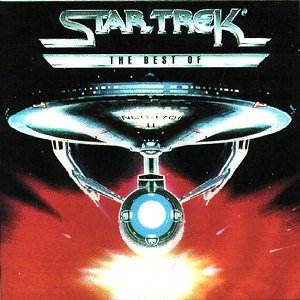 - Music by:-
Jerry GOLDSMITH (Star Trek; Star Trek V)
James HORNER (Star Trek II and III)
Leonard ROSENMAN (Star Trek IV)
Star Trek: The Motion Picture - The Meld; Ilia's Theme; The Enterprise.
Star Trek II: The Wrath of Khan - Battle in the Mutara Nebula; Enterprise Clears Moorings; Genesis Countdown.
Star Trek III: The Search for Spock - Returning to Vulcan; Prologue and Maion Title The Katra Ritual
Star Trek IV: The Voyage Home - Chekov's Run; Hospital Chase; Home Again The Whaler
Star Trek V: The Final Frontier - Life is a Dream; Without Help; An Angry God
I detail above the 16-track contents of this album (including the full names of the films which the Milan booklet editors have overlooked). Trekers will no doubt salivate. This is an excellent sampler, in first rate sound, assembled to celebrate the 25th Anniversary of Star Trek.
The track listing speaks for itself to the enthusiasts, but I would just mention a few tracks from each of the three composers. Clearly all three celebrate the sweep and grandeur of the heroic exploits of the crews of the Enterprise through the immensities of time and space.
Of Jerry Goldsmith's contributions I was captivated, in particular, by 'The Enterprise' from Star Trek: The Motion Picture. It is as though Goldsmith is serenading the elegant spaceship as though she were some beautiful woman. Ilia's theme from the same movie is a mystical and intensely Romantic, bell-like piano led piece. For 'An Angry God', Goldsmith creates poignant music that also has a cool ethereal beauty before it is jeopardised by more sinister motifs. James Horner, too, creates a feeling of grandeur and heroic expectancy around 'Enterprise Clears Moorings' from Star Trek II and another strong Romantic theme plus an air of mysticism for 'Returning to Vulcan' from Star Trek III. For the same movie, Horner adds some very exotic scoring in The Katra Ritual. This is very atmospheric and it is an impressive study in crescendo with a shattering climax before the music subsides into mystical serenity. Leonard Rosenman adds some much needed comic relief in 'Hospital Chase' plus a salty Hornpipe-like number that is 'Chekov's Run'. Some of the tracks embrace Alexander Courage's theme form the Star Trek TV series.
Reviewer
Ian Lace