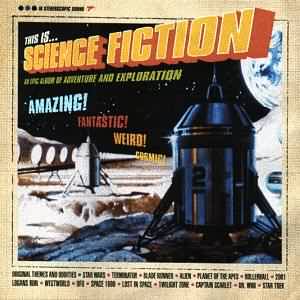 CD1
John Williams: Star Wars (Main theme); Mark Snow: The X Files (Original Main Theme); Jerry Goldsmith/Gene Roddenberry Star Trek (Main Theme); Bach Tocatta in D minor (as used in Rollerball); Richard Strauss: Also Sprach Zarathustra (as used in 2001 A Space Odyssey); Brad Fiedel: The Terminator Man (Main Title); Jerry Goldsmith: Planet of the Apes (Main Title);
Leonard Rosenman: Fantastic Voyage (theme); Jerry Goldsmith: Alien(theme); Russell Garcia: The Time Machine(theme); Howard Shore: The Fly(theme); Danny Zeitlin: The Invasion of the Body Snatchers(theme);
Ennio Moricone: The Thing(Humanity Part 1); Jerry Goldsmith: Logan's Run(The Dome); Brian Eno: Dune(Prophesy theme); Ryuichi Sakamoto: Wild Palms(theme); Michael Nyman: Gattaca(The Morrow); Christopher Franke:
Babylon 5(theme); Vangelis: Blade Runner(End Titles);
Klaus Schulze: Silent Running(theme).
CD2
Dominic Frontiere: The Outer Limits(theme); Bernard Herrmann: The Day theEarth Stood Still(theme); John Williams: The Twilight Zone(theme); Laurence Rosenthal: Logan's Run- TV series (theme); Ron Grainer: Dr Who (theme);
John Williams: Star Wars(Theme/Cantina Band); Fred Karlin: Westworld(theme); Barry Gray: Space 1999(theme); Barry Gray: Thunderbirds (theme); Dudley Simpson: Blakes 7(theme); Dudley Simpson: The Tomorrow People(theme); Crewe/Fox: Barbarella(theme); ?: Rollerball(Executive Party Dance); Barry Gray: U.F.O. (theme); John Williams: Lost in Space- TV (theme); ?: Mork and Mindy; Tim Souster: Hitchhikers Guide to the Universe(theme); Howard Goodall: RedDwarf(theme); Barry Gray: Captain Scarlett(theme); Gray/Elms: Space 1999(theme); Barry Gray: UFO(theme); Jerry Goldsmith: Logan's Run(theme); Jeff Wayne: War of the Worlds(The Eve of the War); Angelo Badalamenti: Twin Peaks(theme); Committee: Extremis(theme); John Williams: Lost in Space(Apollo 440).
Not, I am afraid, a collection to be taken too seriously, perhaps that's why Virgin would not send me a review copy. [And that's where they earn their first black mark: of all the record companies we deal with we find that Virgin is the least helpful and the most reluctant to let us have review copies of the releases.]. Anyway, I am assuming from the rather undergraduate, rag-magazine design and humour that this rag-tag, nothing-new, assembled-from-practically-all-the-recording-companies-issuing-sci-fi-filmmusic collection is aimed at a younger audience. (Although I wonder if they would know anything of some of the rather ancient TV programmes which are represented in this collection?) The track listings themselves are something of a joke. I have listed them as they appear on the album; well almost - I have made one or two corrections. Some tracks do not carry the composer's name and other name styles are inconsistent. We have, for instance, Jerry Goldsmith variously named (quaintly) as Jerrald K Goldsmith, J. Goldsmith and Jerry Goldsmith
On CD1 we have Mark Snow's original X-Files theme which quickly grows tedious after the nth repeating of that whistle and its responding echoing phrase. There is J.S. Bach's Toccata detached from its Fugue for Rollerball and the Also Sprach Zarathustra opening of 2001: A Space Odyssey. The highlights of this disc are the creepy slitherings of Jerry Goldsmith's disturbing Alien score, Russell Garcia's ticking and chiming opening and sweeping romantic music for The Time Machine and Michael Nyman's 'The Morrow' from Gattaca. CD2 has some thin dated material from equally dated cardboard TV science fiction thrillers like Space 1999, Thunderbirds and UFO - all featuring small ensembles trying to sound like big bands. Early work of John Williams is evident in his untypical Lost in Space and The Twilight Zone scores. There is a lot of hard rock yet I was surprised in liking above all Jeff Wayne's The Eve of War from War of the Worlds and that hypnotic Twin Peaks theme of Badalamenti.
Approach with caution - read the contents first before buying and decide if what you haven't got is worth the price of this eccentric collection.
Reviewer
Ian Lace

Some tracks: