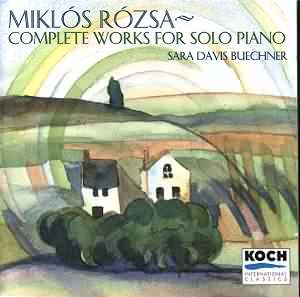 Valse Crépusculaire (1977) 3:54
Variations (1931) 10.52
Bagatelles (1932) 12.17
Kaleidoscope (1947) 9:28
The Vintner's Daughter (1952) 15.17
Piano Sonata (1948) 19.54
This is Volume 9 in Koch's splendid series of Rózsa discs.
It is interesting that I was reviewing the Cambria disc four or five months ago and applauding its reissue of the Unicorn LP of Eric Parkin's recordings. This Koch set has the advantage of a much more generous playing time and declares that this is the complete Rózsa piano output.
The stately nostalgic Gallicism of Valse Crépusculaire (not Crépuscalaire as printed in the listing in the book and on the back of the CD) is a serious merit of this disc. It is a dignified and completely memorable offshoot from the Alan Resnais film Providence.
The Variations do not sound all that Hungarian though they are enjoyable. Oddly enough they sound rather Warlockian in this account. The Parkin Bagatelles were not separately banded. These are. My Parkin disc is not easily to hand so I cannot compare head to head. However I am most impressed with Ms Buechner's sorrowingly reflective approach in Bagatelle 1 and Canzone. Valse Lent sounds rather like John Ireland in Amberley Wild Brooks mood.
Kaleidoscope did not feature on the Parkin collection. It is perky, swayingly romantic, playfully Caledonian, dreamy, flouncingly Chinese and impatient. The Vintner's Daughter sequence comprises a theme and twelve variations each banded separately. The variations are a rich cake offering the theme in variety: reserve, skirling, stellar fragile, heroism, Ravelian, graveyard grotesque, macho gruff, dottily jazzy, moaning, moth-flittering, moonlit lakes and hesitantly and supernaturally tranquil.
The Sonata is in three movements here playing 6.36 - 6.34 - 6.43. Buechner starts with a very low octane count for the Calmo but soon warms to the task. The sonata is a subtle of evanescent charm. I am not sure that in this performance Ms Buechner holds a successful key to the enigma. Parkin seems more coherent, with better articulation, sharper focus and communication although in every other respect the Buechner CD is preferred.
Ms Buechner previously recorded as David Buechner. It was under this name that Ms Buechner recorded a Koch disc of film concertos by Herrmann, North and Waxman (KIC7225).
Incidentally is there any reason why Koch consistently muddle 'formally' and 'formerly' in the notes?
The Koch disc has the advantage of having been recorded twenty years after the Parkin Cambria. Certainly the quality of sound on the Koch is a joy to audition.
The notes are by Christopher Palmer and date from 1975. They seem to come from that Breitköpf and Härtel Rózsa paperback monograph published circa 1978. They are very good indeed. What a loss Palmer was to the world of music when he died several years ago. In fact Palmer's notes did not cover the Valse. For this reason there is a note from Ms Buechner. I do hope that we will hear more from Ms Buechner. Is there any chance that she will record the piano music of the neglected British romantic: Roger Sacheverell Coke? She would also be devastating in both sets of the Rachmaninov Etudes Tableaux.
Recommended (with reservation in the case of the Sonata).
Reviewer
Rob Barnett