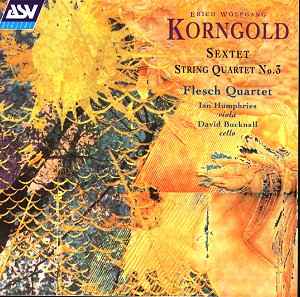 By 1944, Korngold was well settled in Hollywood and began to ponder over the destiny of the music he had composed for Warner Bros. At that time, of course, the music perished when the film left the theatres. Nobody could foresee the popularity these films would gain in their TV reruns or from the pioneering work of conductors, producers and reconstructionsts like, Charles Gerhardt, George Korngold (the composer's son) and Christopher Palmer, in preserving and recording these scores.
So, Korngold began to include themes from his film scores in new works
For the concert hall and the recital room. These works included the Violin Concerto, the Symphony in F-sharp and the Symphonic Serenade - plus this String Quartet No. 3 from 1944.
The String Quartet No. 3 includes themes from Between Two Worlds, The Sea Wolf and Devotion (the theme in turn borrowed from Korngold's music for Shakespeare's Much Ado About Nothing composed in 1918). The string quartet is one of his finest works in the chamber music genre and contains themes of nostalgic regret as well as robust good humour.
The Sextet is an early work written by a very self-assured 17 year old composer. Already the style that would become familiar in the later films is apparent. This is a more Autumnal work of regret and yearning. Some may need to invest some commitment to get the best out of this somewhat dark work but they will be well rewarded. The Flesch quartet, joined by Messrs Humphries and Bucknall for the Sextet play with earnest conviction.
An album for the adventurous film music enthusiast.
Reviewer
Ian Lace