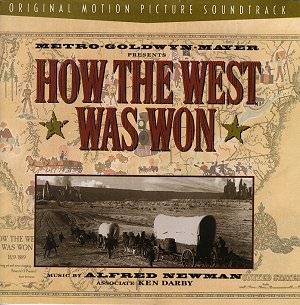 As well known as Alfred Newman was for his landmark film scores, his fame inside Hollywood was due also to his accomplishments in adapting and conducting other composers' works, frequently in film versions of popular Broadway musicals. Those talents were perhaps nowhere better combined than in How the West Was Won, a star-studded 1963 saga that Newman and associate Ken Darby turned into a virtual compendium of Americana music, songs and folktunes -- not to mention Newman's own original music.
How the West Was Won opens with a bold choral overture that seamlessly blends both original and adapted songs. One of the former, "Promised Land," later functions as a secondary theme within the three-part, main-title music -- arguably the most robust, heart-pounding theme that ever introduced a Western flick. (I still recall its visceral impact on me as a young teenager, sitting in the darkened Warners Cinerama Theater on Hollywood Boulevard one Saturday afternoon.) How disappointing it was, then, to discover that the original soundtrack LP contained only an edited version of the main title -- excluding the "Promised Land" theme which, when heard in accompaniment with Newman's main theme, constitutes a virtual second, this time orchestral, overture.
Among the many reasons to be thankful for this double-CD Rhino release of the full 110-minute soundtrack (plus another 23 minutes of outtakes and supplemental material) is the opportunity to hear the complete main title music, plus several other versions -- for example, as Jimmy Stewart does battle with the river pirates and, much later, as Robert Preston leads a wagon train across the prairie. But so rich is this score that Newman utilizes his main theme only sparingly. His other melodic creations include a sly, martial theme in low-register woodwinds for the nefarious river pirates; a jaunty theme for the card-sharp portrayed by Gregory Peck that opens with flutes and piccolos punctuated with bells and celesta; and a noble, searching theme ("Climb a Higher Mountain") featuring ascending strings and horns that speak for the higher ambitions of Zeb (George Peppard). Another high point of the score is "Cheyennes!" in which Newman uses broadly spaced chords in the contrabasses to introduce a frightening Indian attack on the wagon train.
Yet brilliant as Newman's original work is in How the West Was Won, his and Darby's adaptations rate equal praise. The sheer wealth of material here makes this CD worth having. What stands out in scene after scene is how well Newman makes this material work dramatically to support the film. Listen, for example, to the hushed male voices singing "When Johnny Comes Marching Home" as Zeb skips excitedly down the road to join the Union Army in expectation of great adventure. Newman and Darby turn the song of celebration into a dirge, offering it as a shattering counterpoint to the scene's visuals. Other authentic songs from the period made good use of by Newman and Darby include "Shenandoah," "Banks of the Sacramento," "Erie Canal" and "Home in the Meadow." That last is a key, continuing theme in the film, based on "Greensleeves" but with new lyrics by Sammy Cahn and performed by Debbie Reynolds, who acquits herself quite nicely in one of the film's larger roles, calling for her to sing two other songs, both with lyrics by Johnny Mercer including the suggestively clever "What Was Your Name in the States?"
How the West Was Won was nominated for eight Oscars in 1963, including Newman and Darby's score (Newman had long before begun sharing screen credit with his associate, a gesture the latter found both touching and humbling.) Although they didn't win -- John Addison's "Tom Jones" did, besting a field that also included Alex North's "Cleopatra" Henry Mancini's "The Pink Panther" and Dimitri Tiomkin's "55 Days at Peking" -- the film did receive three awards, including best sound recording. For that, head MGM sound supervisor Frank Milton credited Newman and Darby, whose innovative placement of the recording microphones low over each section of the orchestra helped produce the crisp, powerful sound that so marked the score then and which remains impressive in this release, from those original tapes.
Alfred Newman would live just seven more years after completing this monumental score. Those final years would include more film music highlights to add to his legendary list of accomplishments, including his ninth Oscar (with Darby) for the adaptation of Camelot, as well as a posthumous nomination for Airport, his final score. They also would include perhaps Newman's greatest professional tragedy, the evisceration of his score to The Greatest Story Ever Told by director George Stevens. But he always cherished his experience on How the West Was Won, which he once described to Darby as "the most enjoyable professional experience of my life."
Reviewer
John Huether


Reviewer
John Huether

---
---
Reviews carry sales links
but you can also purchase
from: