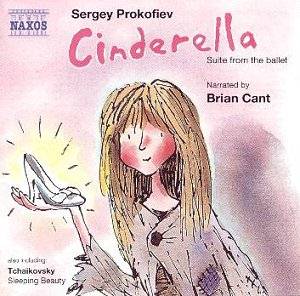 If you are worrying about what to get for that young niece or nephew this Christmas, then this CD might just be the thing. It will certainly provide an ideal introduction to the world of classical music. Brian Cant is, of course, well-known for his many television appearances as an actor, and in many children's programmes; but he is probably best remembered for his narration of those favourite TV series for the very young: Camberwick Green and Trumpton. As such, he makes an ideal, unselfconscious story-teller of Cinderella and Sleeping Beauty.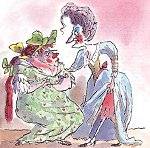 Prokofiev (1891-1953) was of course one of the greatest twentieth century composers working in most genres but in the world of film music he is remembered best for his music for Alexander Nevsky and Ivan the Terrible. He also contributed significant music for the theatre and ballet. His best-known ballet music, for Romeo and Juliet, has tended to overshadow his other achievements in this context. He commenced work on Cinderella in 1940 in response to a commission from the Kirov Ballet but the German invasion diverted his attention and so Cinderella was not completed until 1944. Soon after its première, Prokofiev arranged three suites from the ballet. The suite on this recording draws its material from all three suites. Theodore Kuchar draws playing of great enchantment and humour from the Ukraine players. In the 'Dance of the Shawl' (by the ugly sisters) Prokofiev, in some of his most sardonic music, pours rough scorn upon them. 'Fairy Godmother' (preparing Cinderella for the Ball) is a very atmospheric movement for the magic of the creation of the coach and horses, the gown and the slippers. The scintillating 'Cinderella's Waltz' (at the Ball), on the other hand, is one of Prokofiev's most beautifully romantic creations. Tchaikovsky's Sleeping Beauty music is too well known for the necessity of any comment from me and so I will just comment that Cant adds his magical touch to a good performance by Mogrelia's players.
A ticket to enter a world of enchantment for the young music lover.
Reviewer
Ian Lace


Reviewer
Ian Lace

---
---
Reviews carry sales links
but you can also purchase
from: