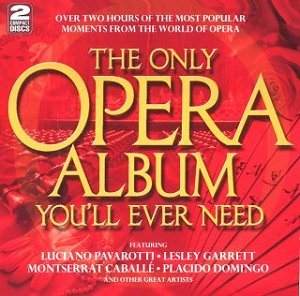 CD1:
A Midsummer Nights Dream: Verdi - Brindisi (La Traviata)
Fatal Attraction: Puccini - Un Bel Di (Madama Butterfly)
Dangerous Liaisons: Handel - Ombra Mai Fu (Serse)
Diva: Catalani - Ebben? Ne Andro Lontano (La Wally)
Moonstruck: Puccini - O Soave Fanciulla (La Boheme)
Driving Miss Daisy: Dvorak - Song to the Moon (Rusalka)
Prizzi's Honour: Donizetti - Una Furtiva Lagrima (L'Elisir d'amore)
Trainspotting: Bizet - Habanera (Carmen)
Mrs Doubtfire: Rossini - Largo Al Factotum (The Barber of Seville)
Sunday Bloody Sunday: Mozart - Soave Sia Il Vento (Cosi Fan Tutti)
The Witches of Eastwick: Puccini - Nessun Dorma (Turandot)
Bizet: Toreador Song (Carmen)
Gershwin: Summertime (Porgy and Bess)
Delibes: Flower Duet (Lakme)
Purcell: When I am Laid in Earth (Dido and Aeneas)
Verdi: Grand March (Aida)

CD2:
The Lone Ranger: Rossini - William Tell Overture (William Tell)
Moonraker: Leoncavallo - Vesti La Giubba (I Pagliacci)
Amadeus: Mozart - Der Holle Rache (The Magic Flute)
Gallipoli: Bizet - Au Fond du Temple Saint (The Pearl Fishers)
Apocalypse Now: Wagner - Ride of the Valkyries (Die Walkure)
Bizet: Seguedille (Carmen)
Puccini: E Lucevan Le Stelle (Tosca)
Offenbach: Barcarolle (The Tales of Hoffman)
Verdi: Chorus of the Hebrew Slaves (Nabucco)
Mozart: Voi Che Sapete (The Marriage of Figaro)
Bellini: Casta Diva (Norma)
Verdi: La Donna E Mobile (Rigoletto)
Gluck: Che Faro Senza Euridice? (Orfeo ed Euridice)
Mozart: Non Piu Andrai (The Marriage of Figaro)
Verdi: Celeste Aida (Aida)
Tchaikovsky: Entr'acte and Waltz (Eugene Onegin)
Of course it seems a very strange thing for a record company, in the business of selling records, to claim that any sort of album is the only one of its genre you will ever need. However, this determinedly populist anthology is clearly aimed at a market that does normally buy opera recordings, but which is familiar with releases along the lines of 'Now that's What I Call…', and which might be tempted to purchase an opera set which gathers all the 'famous bits' together for easy consumption. Indeed, the booklet notes have the flavour of a beginners guide: "These two CDs feature thirty-two extracts from the greatest operas of all time, sung by world-famous artists, to move, excite and thrill you. Welcome to the magical world of opera!" And with that welcome, far from being the only opera album you will ever need, RCA must hope that this lavish collection will serve as a super sampler and appetiser for further explorations of the catalogue.
From a film point of view, the set lists the movies in which many of the pieces have been featured (though not necessarily these particular recordings). There is at least one omission, for the very first track, 'Brindisi' from La Traviata, can be heard in the most recent film adaptation of A Midsummer Night's Dream, and the cover fails to record this fact. Perhaps the film is too recent. In total 15 of the 32 pieces are associated with films, several others with advertisements, and one with a football competition. Apart from The Lone Ranger, these films tend only to date back as far as the 1970's, and most are of more recent vintage than that. Whether this indicates that using opera in film is a relatively recent thing - given that the leitmotiv approach of much film scoring is derived directly from opera, one should think not - or whether it is simply that selections from opera have recently been given especial prominence, usually as a shorthand indication of aspirations to quality film-making.
Whatever the reasoning behind the selections, this is a good value collection, which, while inevitably alienating the opera purists (for whom in any case it is not intended) serves its purpose. The sound quality is obviously variable, especially so given that the selections span five decades, but is always adequate and is frequently excellent. Further, these are good performances by some of the most famous names in classical music. RCA have dusted down the back catalogue, and while the earliest recording dates from 1950, a surprising number are very recent, showcasing albums recorded in the last two or three years. Here we have Jussi Bjorling, Montserrat Caballe, Lynn Dawson, Placido Domingo, Leslie Garrett, Angela Gheorghiu, Della Jones, Vesselina Kasarova, Luciano Pavarotti, Leontyne Price, Robert Merrill, Janice Watson, and such equally famous conductors as Carl Davis, Sir Edward Downes, Herbert von Karajan conducting orchestras ranging from the London Symphony Orchestra to the Vienna Philharmonic and the Orchestra of the Royal Opera House, Covent Garden. Clearly an impressive collection of top names, though anyone considering buying this set because of Pavarotti's name on the cover should be aware that he appears only on one track: a duet from La Boheme, recorded live in mono with soprano Mirella Freni in 1967.
Even if the titles are unfamiliar, every piece should be instantly recognised. Here are many of the great set-pieces of opera, from the impassioned romanticism of 'Un Bel Di' from Madama Butterfly - which being the song of a woman rejected by her lover, actually had a thematic relevance to the film which appropriated it (Fatal Attraction) - to the exhilarating ferocity of Wagner's 'Ride of the Valkyries' (used unforgettably in Apocalypse Now), and the rambunctious 'Largo Al Factotum' from The Barber of Seville (heard in Mrs Doubtfire). Presented in this form, shorn of recitatives and less well known arias, makes the music as accessible as popular, and there is really no reason why almost anyone could not enjoy what is ultimately a collection of great music. Resolutely not a release for serious opera buffs, but for the general listener, someone who likes a bit of classical music but doesn't know where to begin with opera, or the film music enthusiast curious about some of the opera selections heard from time to time in the movies, this is as good a place to begin as any. It provides a painless, good value doorway into the world of opera, and for that can really only be commended.
Reviewer
Gary S. Dalkin


Reviewer
Gary S. Dalkin

---
---
Reviews carry sales links
but you can also purchase
from: