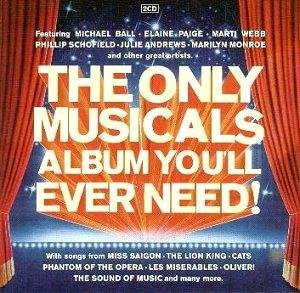 This cheeky and rather OTT title proclaims a collection of 38 fabulous numbers from musicals old and new. My reviewing job is easy - just look at what you get! Roll back the carpet and then turn the lights down low, snuggle up to someone special and enjoy -
Reviewer
Ian Lace

CD1
'Love Changes Everything' - Aspects of Love (LloydWebber/Black/Hart) - Michael Ball
'Losing My Mind' - Follies (Sondheim) - Cleo Laine
'Last Night of the World' - Miss Saigon (Schönberg/Maltby/Boubil) - Joanna Ampil & Peter Cousens
'If I Can't Love Her' - Beauty and the Beast (Menken/Rice) - Ethan Freeman
'With One Look' - Sunset Boulevard (Lloyd Webber/Black/Hampton) - Kim Criswell
'Unusual Way' - Nine (Yeston) - Elaine Paige and Jonathan Price
'The Music of the Night' - Phantom of the Opera (Lloyd Webber/Hart/Stilgoe) - Marti Webb and the Philharmonia Orchestra.
'Can You Feel the Love Tonight?' - The Lion King (John/Rice) - Sean McDermott.
'Memory' - Cats (Lloyd Webber/Nunn/T.S. Elliot) - Maria Friedman.
'Talk to the Animals' - Doctor Dolittle (Bricusse) - Philip Schofield and Julie Andrews
'Big Spender' - Sweet Charity (Coleman/Fields) - Jacqueline Dankworth; Josephine Blake; Shezwae Powell and girls.
'Money' - Cabaret (Kander/Ebb) - Alan Cumming and the Kit Kat Girls
'All that Jazz' - Chicago (Kander/Ebb) - Caroline O'Connor & Company
'America' - West Side Story (Bernstein/Sondheim)
- Charlotte d'Amboise; Debbie Gravitte and Ensemble.
'Bring Him Home' - Les Miserables (Schönberg/Boubil/Kretzner) - Colm Wilkinson
'Climb Every Mountain' - The Sound of Music (Rodgers/Hammerstein) - Lesley Garrett.
'The Impossible Dream' - Man of La Mancha (Leigh/Darion) - Colm Wilkinson
'Don't Cry for Me Argentina' - Evita (Lloyd Webber/Rice) - Stephanie Lawrence
'Send in the Clowns' - A Little Night Music (Sondheim) Cleo Laine.
CD-2
'There's No Business Like Show Business' - Annie Get Your Gun (Berlin) - Ethel Merman.
'I Get a Kick out of You'/'Anything Goes' - Anything Goes (Porter) - Patti Lupone
'Old Man River' - Showboat (Kern/Hammerstein) - William Warfield.
'Oklahoma!' - Oklahoma! (Rodgers/Hammerstein) Company
'I Got Rhythm' - Crazy for You (George and Ira Gershwin) - Ruthie Henshall; Kirby Ward and company.
'Singin' in the Rain' - Singin' in the Rain (Brown/Green) - Tommy Steele.
'Shall We Dance? - The King and I (Rodgers/Hammerstein) - Yul Brynner and Constance Towers.
'I Could Have Danced All Night' - My Fair Lady (Lowe/Lerner) - Lesley Garrett
'Stranger in Paradise' - Kismet (Wright/Forest/Borodin) - Valerie Masterson and David Rendall.
'Lullaby of Broadway' - 42nd Street (Warren/Dubin) - Jerry Orbach and Company.
'Consider Youself - Oliver (Bart) - Michael Goodman and Bruce Prochnick.
'Everything's Coming Up Roses' - Gypsy (Styne/Sondheim) - Angela Lansbury
'Luck Be a Lady' - Guys and Dolls (Loesser) - Peter Gallagher and ensemble.
'I Wanna Be Loved by You' - Some Like It Hot (Kolmar/Stotthart/Ruby) - Marilyn Monroe
'If I Were a Rich Man' - Fiddler on the Roof (Block/Harrick) - Zero Mostel
'Some Enchanted Evening' - South Pacific (Rodgers/Hammerstein) - Giorgio Tozzi
'You'll Never Walk Alone' - Carousel (Rodgers/Hammerstein) - Carousel Company
'76 Trombones' - The Music Man (Wilson) Brian Cox and Company
'Hello Dolly' - Hello Dolly (Herman) - Carol Channing and Company.

Reviewer
Ian Lace

---
---
Reviews carry sales links
but you can also purchase
from: