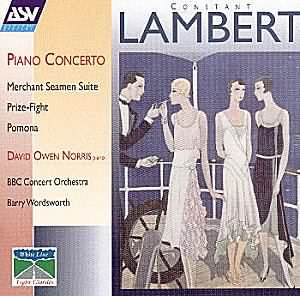 These are all premiere recordings with the exception of Pomona
Constant Lambert (1905-1951) was a British composer, conductor, editor/arranger, and writer of wide and prodigious talents. Halliwell mistakenly lists his only film score as Anna Karenia (the 1947 version starring Vivien Leigh, Kieron Moore and Ralph Richardson; a wonderful score recorded by Bernard Herrmann on his album Great British Film Music - Decca London 448 954-2). In actual fact he made his debut in 1940 with the documentary Merchant Seamen from which the suite on this recording was derived.
Merchant Seaman commences with a bold, salty movement entitled 'Fanfare', heroic and virile. 'Convoy in fog' is an atmospheric piece suggesting the convoy groping its way forward through the mists with ominous pedal notes on low groping clarinets that might suggest lurking enemy submarines. The powerful and intense 'Attack' begins with agitated scurryings before explicit suggestions of explosions and fire. 'Safe Convoy' sees the return of the convoy to more serene waters with an imminent promise of landfall suggested by the cries of 'gulls. The final movement, 'March' is a stirring conclusion to a thoroughly enjoyable and evocative suite.
Lambert's music that occupies the remainder of this programme may not have been written for the screen, but it is highly evocative and dramatic and therefore very suitable for scoring films. Prize Fight was music for a ballet but it could easily have underscored a silent slapstick comedy with its banana-skin style of broad humour. The Piano Concerto (edited by Giles Easterbrook and Edward Shipley) is an astounding work for a 19 year-old composer, full of confidence, sparkling wit and invention. Despite superficial influences, Prokofiev, Ravel, Poulenc, Stravinsky and Delius it is pure Lambert. The delightful ballet Pomona is an exercise in neo-classicism.
Barry Wordsworth and the BBC Concert Orchestra give sparkling performances of all the works.
Reviewer
Ian Lace

[This recording is reviewed in more detail on our associated Classical site.]

Reviewer
Ian Lace

---
---
Reviews carry sales links
but you can also purchase
from: