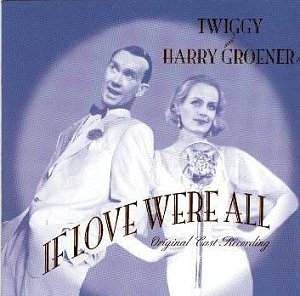 The songs:

Some Day I'll Find You
A Room With a View
Mad About You
Don't put your daughter on the stage Mrs Worthington!
Parisian Pierrot
Mad Dogs and Englishmen
Poor Little Rich Girl
Twentieth Century Blues
You were there
Has Anybody Seen Our Ship?
Men About Town
Mad About the Boy
I'll Follow My Secret Heart
I Like America
London Pride
Younger Generation
If Love Were All
I'll Remember Her/I'll See You Again




If Love Were All is the story of Noël Coward (Harry Groener) and Gertrude Lawrence (Twiggy). Their's was a celebrated life-long collaboration that included two inspired productions in which they appeared together: Private Lives (1930) and Tonight at 8:30 (1936). All - or most - of the numbers listed above will be familiar and they are interspersed with a narrative by 'Noël' (and embellishments by Gertie). They begin by telling us how they first met, in their early teens, on London's Euston Station on their way to Liverpool to appear in a stage show. She gave him an orange and he fell in love with her there and then. Their story continues right up until Gertie's death.
But it's the songs that matter. Who could resist the naughty but only-to-realistic, 'Don't put your daughter ("please, on my knees") on the stage, Mrs Worthington.' or the humour of 'Mad Dogs and Englishmen.' Then there is the sophistication of 'Poor Little Rich Girl' and the wartime nostalgia of 'London Pride.'
Groener is marvellous. Twiggy's voice, style, and look fits comfortably into the milieu of the Roaring Twenties but her intonation is... well let's say that she is often a semi-tone (or more) off her target; "I'll follow my secret heart" is weak with the voice vibrato and sliding rather painfully up to the note. Another disappointment is the delivery of the title song, 'If Love Were All.' This is a lovely number and sung by an accomplished actress/singer like Elaine Paige, never fails to bring a lump to the throat and a tear to the eye.
But, in all, this is a sparkling CD and a confident recommendation to sweep away the blues.
Reviewer
Ian Lace


Reviewer
Ian Lace

---
---
Reviews carry sales links
but you can also purchase
from: