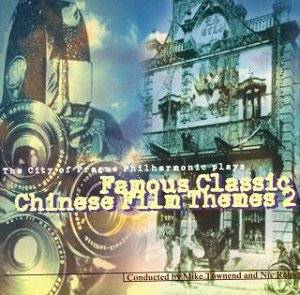 Hard on the heels of Volume One, comes this second collection of famous Classic Chinese Film Themes. Some of the more general comments I made about the first disc in my review on Film Music on the Web also apply here. The disc is lavishly packaged with most appealing and evocative artwork, again contains 12 big and bold arrangements of oriental film themes, and again the composers aren't named in the English text. This is apparently the result of the packaging being produced by Silva Screen's partners in this production, Rock Records, with the Far East being the important target market for the release. Where I have been able to discover the composer's names I have done so, for which thanks must go to the Internet Movie Database.
There is some confusion between track titles and the films the music originates from. For example, on the back of the jewel case, track 2 is 'Remember These Days - Main Theme'. Unsurprisingly, I haven't heard of a film of that title, as the booklet notes that this is the theme from the John Woo action thriller A Better Tomorrow.
The album opens with the Main Theme from Once Upon A Time in China, an epic Kung Fu period adventure which Channel Four have panned and scanned into visual incoherence a couple of times in the last two years. This version of the theme (by Romeo Diaz and James Wong I), has terrific percussive dynamism and relentless drive, putting one in mind of the opening of a Paul Verhoven science fiction thriller, Robocop, Total Recall or Starship Troopers. Brisk and invigorating, and with enormous physical impact, it is a shame that there is nothing else in a similar vein on the rest of the album, which is overall in a more romantic mood.
'Remember These Days' from Ka-Fai Koo's score for A Better Tomorrow summons the essential melancholy at the heart of the best thrillers, and does so in a decidedly European format. There is a touch of John Barry, circa 1968, but equally those who have time for the beguiling melodies of Michel Legrand and Francois Lai should instantly fall in love with this theme. It is the very definition of bittersweet, and like the best of Legrand and Lai, simultaneously uplifting and haunting. Whatever is happening on screen, here is ill-starred romance, and we wouldn't have it any other way.
'Endless Embrace' from The Phantom Lover (composed by Chris Babida) has a nostalgic warmth, but lacks the appeal of the opening tracks, while 'The Orphans of Asia' from A Home too Far has a light, lilting touch, opening with flute over strummed guitar before developing into a pastoral march.
Days of Being Wild has a 1920's dance feel with an attractive Chinese violin melody line, some jaunty pizzicato backing, and is apparently adapted from 'Jungle Drums' by E. Lecuona and John Cacavas (best known for scoring Airport '75 and '77, and episodes of Columbo and Kojak.) A Maiden's Diary is back in Francois Lai territory, complete with Parisian street accordion, and a strong romantic melody that just occasionally threatens to turn into Eric Clapton's 'Wonderful Tonight'. 'Is Anything to Sell?' from Papa, Can You Hear Me Singing? provides a startling moment when it turns into an orchestral rock anthem complete with soaring electric guitar. The Stadium Rock 'heroics' sound out of place in the context of the album, and whether or not they work will be very much a matter of taste. 'Take for Granted' from Jiping Zhao's score for Temptress Moon has a more complex and evocative structure (Zhao is one of the leading Chinese film composers, having scored, among others Farewell My Concubine, The Story of Qiu Ju, Red Firecracker, Green Firecracker, Raise the Red Lantern and Red Sorghum) and here provides one of the strongest themes on the album. 'Chang-San's Song', actually an orchestral soft-rock anthem, from Father and Son is one of the less appealing tracks. Dreamer Lovers is a hard movie to pin down, there being at least three different Chinese films which have all been given that English title. Which one this is, I have no idea, but once more we are in attractive bittersweet Legrand / Lai land.
I was quite unable to trace Lu Bin Hua, but after a rather English opening it develops into what sounds like a noodle (rather than spaghetti) western, and as such is quite effective until the enthusiastic-but-not-really-very-good electric guitar player returns. The album ends with 'You Make Me Happy and Sad' from Eat Drink Man Woman. The music is by Mader, who has scored everything from a recent National Lampoon TV movie to the Finish Darkness in Tallinn, as well as the hit Taiwanese food flick which brought director Ang Lee to his Sense and Sensibility and hence the current Ride With the Devil. The tune is yet another big anthem, but it doesn't stay in the memory.
The stereo sound is superb, and the disc even offers the option of Dolby Surround and Pacific Microsonics HDCD (R) playback. However, while the original 57-minute disc offered high quality music from first to last, this shorter album is somewhat patchy. There are some very strong tracks, but others are no sooner heard than forgotten, while the lush romantic feel of Volume One is disappointingly lacking from too much of this follow-up. Meanwhile, the brief electric guitar interludes lack polish, failing to blend with the orchestra as well as they should. My advice is to buy Volume One first - it really is very good indeed - and if you like that, consider buying this. Just apply the law of diminishing returns which pertains to most sequels, and you won't be so disappointed.
Reviewer
Gary S. Dalkin

(I regret I cannot find an on-line supplier for either of the discs in this series. LM)

Reviewer
Gary S. Dalkin

---
---
Reviews carry sales links
but you can also purchase
from: