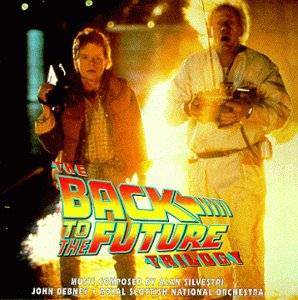 The trilogy, still very successful commercially speaking, had a consistency of style and participant remarkable in Hollywood. All three films were directed by Robert Zemeckis, all starred Michael J Fox (in a role that 'made' him as a big-fee actor), Christopher Lloyd and Lea Thompson.
The music was provided by a single composer, Alan Silvestri. Silvestri's approach is a soup in which John Williams and Bernard Herrmann meet. The scores are big, rippling and symphonic. All three are featured here in re-recordings done by the Glasgow orchestra with a fluency borne of their many years association with re-recording film scores. John Debney is not just a sympathetic interpreter but one who gives the impression of believing in the music.
One justified criticism is that the scores tend to present a single theme (but MY what a theme it is) and keep coming back to it time after time! The theme is heroic, exuberant, breathy and redolent (if you know them … and you should!) of the horn writing in Andrzej Panufnik's Heroic and Tragic Overtures.
Between the various re-appearances of the great theme you get some excellent mood music not short on excitement or flair and often suggestive of time's celestial meccano gone berserk. Kodaly and Copland are also influences.
Apart from slices of the three scores we also get 4:10 of the music used 'inside' the Universal Studios BTTF 'ride'.
Good documentation. Excellent package.
Reviewer
Rob Barnett