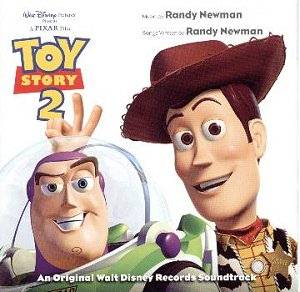 Please read this review in conjunction with that of the accompanying album To Infinity and Beyond - Songs from and Inspired by Toy Story and Toy Story 2 also on this site this month
Randy Newman's light melodic touch so marvellously employed in such films as last year's Pleasantville, seems to have made him the ideal choice for this sequel to the original Toy Story. Here, he delivers a sophisticated score yet one that brims with charm and a child-like sense of awe and wonderment. The difficulty is that although it is brilliant in its primary capacity as music to watch a film, it does not provide a very satisfying listening experience. Whereas there were so many tracks in the Pleasantville score that had clear attractive and well developed themes, Toy Story 2 is too much of a dazzling chiaroscuro, a rich constantly shifting kaleidoscope. I habitually write notes for each track as I review a CD, but on this occasion I found this technique to be unhelpful and well nigh impossible; the pace is so frenetic, the constant mood and tempi changes so fast and furious, even bar-to-bar almost. Take the cue 'Woody's Dream' for instance, within only two or three minutes, you have music that is heroic, romantic and of pathos; you have material recalling Copland (in Rodeo/Red Pony mood); plus influences of Elmer Bernstein and Bernard Herrmann in Vertigo mode. Only very few cues notably 'The Cleaner' allow the score enough time to take breath and present a clear-cut theme - in this case a very appealing and catchy tune. The opening cue 'Zurg's Planet' is another exception which is an amusing parody of all those 'Star Wars' type movies with affectionate references to the music of John Williams and Jerry Goldsmith et al.
I have to say that in this case I found myself rooting more for the three source numbers that introduce the original score. 'Woody's Roundup' a charming song that will appeal to children of all ages sung by Riders in the Sky in the style that we 'oldies' would have associated with Roy Rogers or Gene Autry. 'When she loved me' is an equally old fashioned-style ballad sung with style by Sarah McLachlan and the buddy, buddy song, 'You've Got a Friend in Me' sung with big-hearted conviction by Robert Goulet.
Reviewer
Ian Lace
Rating as music for a family film:

as a listening experience

Reviewer
Ian Lace
Rating as music for a family film:

as a listening experience

---
---
Reviews carry sales links
but you can also purchase
from: