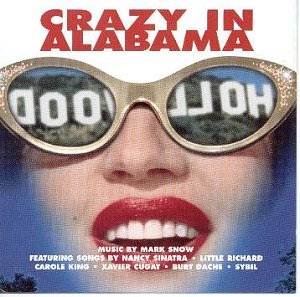 You certainly cannot complain about lack of variety here! This score embraces the sentimental, both trad. and mainstream jazz, some lively source music, and some downright weird synth effects.
The opening 'Pool of Freedom - Theme from Crazy in Alabama' and the End Titles are in the traditional warm-and-sentimental, middle-America, pastoral tradition firmly setting the character and locale of the screenplay. You even hear, within the End titles music, a reference to a theme that Dvorak employed in his 'New World' Symphony. This is attractive, appealing material.
'Mellow Ride' is just that with harmonica, banjo and high strings with an odd interesting woodwind effect now and then. It has a quirkiness that grows on you. This facility of Snow's to create just the right effect is best displayed in the cue, 'Pool Fantasy' an extraordinary eerie evocation that ripples and echoes across the sound stage accompanied with tiny droplets and rattlesnake rattlings and indigenous Indian material. This all segues into a folksy fiddle mourning 'The Death of Taylor'. Later there are more interesting synth effects but in a grotesquely humorous mood in the fast and furious 'Headspin'. Lively trad jazz but with some disturbing breaks infuses 'Faces and Hats' which contrasts with some source mainstream jazz as Xavier Cugat imbibes 'One Mint Julep. Innocence rubs shoulders with the decadent. 'Cell seduction' is slinky, seductive, and jazz-based while 'Fame and Fortune' is all sweet innocence.
Source music includes: Nancy Sinatra singing, 'These Boots are Made for Walking' (I remember that one!); Little Richard's 'Lucille', and Sybil singing 'We Shall Overcome'.
Interestingly, the cues on this soundtrack often seamlessly segue into each other. While not outstanding, this is certainly above the average new score we are sent these days.
Reviewer
Ian Lace

Reviewer
Ian Lace

---
---
Reviews carry sales links
but you can also purchase
from: