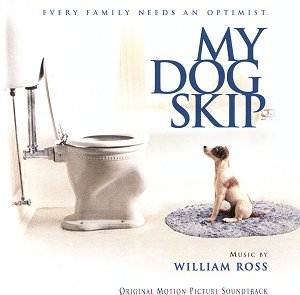 After the his successful T-Rex: back to the Cretaceous, William Ross returns to the family movies genre by scoring this sensitive, coming of age story about the bond between a boy and his dog Skip. Obviously, the movie calls for mellow, delicate and soft themes, and
Williams Ross answers accordingly with this lovely score, based mainly on sentimental and melodic themes on strings and piano.
In general, the score is a medley of well-known styles. The music is quite influenced by Goldsmith, Bruce Broughton, and, occasionally, John Williams It revolves around the main theme, beautifully rendered with piano and strings as the 'Main Title'. The theme binds the score and reappears in varying and more colourful orchestrations. This theme is interweaved with some secondary themes, but none of them sufficiently developed.
Although the main theme is practically never rendered in the same orchestration twice, its repetition begins to become wearisome and it is left to cues like 'Driving with Skip', a fast and jolly track, and 'Greenwood Cemetery', ominous and brassy and quickly reverting to faster-paced music reminiscent of Williams' scores, to barely save the score from being labelled mono-thematic.
Not very original but quite well crafted, this scores nevertheless has enough passion and sentiment but it is standard and predictable for this kind of movie and it demonstrates this promising composer's capabilities in painting emotions in orchestral colours.
Reviewer
Kostas Anagnostou


Reviewer
Kostas Anagnostou

---
---
Reviews carry sales links
but you can also purchase
from: