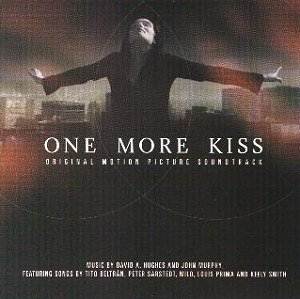 This album certainly has an arresting opening, reflecting the album booklet cover design: the sound of a chill wind clutching at a girl perched atop a New York skyscraper. She observes, "They say the best time to jump is about five o'clock when the wind is low and the traffic won't stop for anybody..."
The blurb tells us that "One More Kiss is a story about rediscovering love and how, when perceptions are forced to change, life can hold an entirely different meaning." Sarah leaves her New York high rise affluence and goes home, to Scotland, to find her old love Sam, now married though, and to visit her father, Frank. But Sarah is under a death sentence of cancer.
Hughes and Murphy's music is perforce romantic and sentimental and tinged with sadness and regret. After the dramatic opening described above, the 'Opening titles' presents, within its 41/2 minute compass, affecting romantic music that is serene yet disturbing and turbulent, and intimate yet remote. A slight tango inflection at one point adds colour. Many of the very brief cues of original music are reflective with slow moving sustained chords mainly for strings. Two cues have special beauty. The oddly named 'Frank's false teeth' that has a lovely haunting poignancy. Seemingly summoning distant memories, this cue has the bass clarinet playing unusually at the top of its register to give a sort of ghostly effect. Then there is the radiantly romantic evocation of 'Kate Flying'.
The source music is interesting and varied. From the world of opera, Tito Beltran sings 'Amor Ti Vieta', Julian Jenson, 'Caruso' and Slava a beautiful arrangement of 'Ave Maria'. Classical popular material includes that marvellous narrative song about the young Parisian lady with airs, 'Where do you go to my lovely'; and 'How About You' (better known by its line 'I love New York in June, how about you') which is chosen by Sarah to be sung at her funeral.
One or two of the original music tracks have narrative overlain. Particularly poignant is Sarah's 'Last Speech', "It's pointless you mourning for me, I enjoyed my life. Naturally you'll miss me - I have a great sense of humour...think of me at a better party." The music at this point has warmth and compassion and is, rightly, just that little bit remote with some nice material for the oboe.
A feel-good album to be taken with chocolates and plenty of Kleenex.
Reviewer
Ian Lace

But Paul Tonks is sceptical:-
Yikes! What the Hell kind of concept is this? Although I suspect only the best of intentions, this is almost a template for what not to do in putting a soundtrack album together. Every conceivable target audience group is going to feel short-changed. Blatant rip-offs, classic pieces thrown in at random, a mish-mash of songs, dialogue, 30 second cues, and a complete absence of the title song. Let's take those in turn:
We start with a dangerously close plagiarisation of Craig Armstrong's "Weather Storm" (from his The Space Between Us solo album) in "Opening Titles". There's a couple of classical cinematic chestnuts in "Ave Maria" and "Beautiful Dreamer", then a hodgepodge of styles cocktailed together in Connie Lush's "Fascinating You" & "How About You?", Milo's "Swimmers", and Peter Sarstedt's "Where Do You Go To My Lovely?"
The film dialogue chosen is hardly anything memorable, and is wastefully mixed into the music beneath which makes programming impossible. Length of cues may only be a personal bugbear, but surely a little editing might have produced a semblance of musical growth? Lastly is the fact the film title is inspired by the song "One More Kiss, Dear" sung by Don Percival in Vangelis' Bladerunner score. All the booklet has to say is that it isn't included. Presumably the explanation comes under a licensing wrangle - but an explanation would have been nice.
Despite the obvious cameraderie in collusion between those involved, there is no pleasing result to be made from the sum of their parts.
Reviewer
Paul Tonks