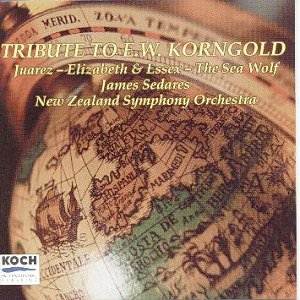 Incredibly, this collection has taken three years to reach us. I understand that it was originally intended to include material from The Sea Hawk and the release was held up pending this projected inclusion, however circumstances prevented completion. It was recorded in Wellington New Zealand in March 1997 and Tony Thomas's notes, reproduced without any editings, are geared to the Korngold centenary that occurred in 1997. The two main items on the disc are welcome extended suites from Juarez and The Sea Wolf both lasting 27+ minutes. Just over three minutes of Elizabeth and Essex are sandwiched between artfully bring the total playing time to just over an hour.
I have to confess that Juarez had been my least favourite amongst Korngold's scores. I always felt it to be too saccharine and rather fuzzy and unfocused. While I am still not 100% converted, James Sedares' lively reading and presentation of this music has certainly opened my ears. Juarez relates the tale of French Emperor Louis Napoleon's (Claude Rains) ill-fated adventure in Mexico when America intervened and obliged him to withdraw abandoning his Mexican puppet emperor Maximilian (Brian Aherne) and his wife, Carlotta (Bette Davis). Carlotta, returning to Paris, pleads in vain with Louis Napoleon and consequently goes mad with grief - Maximilian, is executed by the Juarez government. After the imposing Main Title there is an evocative 'Trip Through Mexico' followed by an exciting 'French Battle Montage' and 'Guerilla Warfare' in which bloody skirmishes are very apparent. 'Carlotta Weeps' and 'The Child and Adoption' allow some romance and intimacy and 'The Mad Scene' and 'The Dream' are eerie and harrowing. The remaining cues follow the tragedy to its conclusion -'Maximilian's Surrender', 'Marche Funebre', Church Bells and the victorious 'Juarez'. The suite includes all Korngld's major themes. Aside from the use of the well-known 'La Paloma' (performed here sounding beautiful and romantic with an uncredited soprano), Korngold eschewed ethnic music which, in this case, I think, was a pity because Mexico, of all locations, has such strong musical associations. For me, this omission probably gives that unfocused quality I mentioned earlier.
The short Elizabeth and Essex suite includes: Main Title (without Gerhardt's swagger and polish), the equally thrilling 'Fanfare and Essex March' (better) and End Title.
The highlight of this disc is this extended suite for The Sea Wolf. A bleak, dark tale based on a novel by Jack London, it tells of Wolf Larson (Edward G. Robinson), the sadistic, psychotic captain of the sealing schooner, The Ghost who picks up two survivors from a wrecked ferry in San Francisco harbour - Humphrey Van Weydon, a writer (Alexander Knox) and escaped convict Ruth Webster (Ida Lupino). Larson refuses to put them ashore and they are therefore obliged to continue on with the voyage. Already on board is another escapee from the law, George Leach (John Garfield) and a crew of discontents amongst who is the vicious cook (Barry Fitzgerald). In the course of the voyage, Van Weydon discovers that despite his bullying, Larson is a cultured and well-read man. When the Ghost is attacked by Larson's vicious brother, Larson locks Leach in his cabin. The ship is sinking but mortally injured Van Weydon makes a deal with Larson to go down with him if Leach is allowed to escape with the girl so permitting something of a happy ending.
Much of Sol Polito's dramatically lit photography is of a Ghost shrouded by mist and rain and therefore not surprisingly Korngold delivers some very evocative music that evokes not only such hostile conditions but also the turbulent mindset of Larson erupting with full force in 'Larsen's book' and 'Escape and Storm'. This is bleak music indeed - yet totally riveting -and quite unique and unusual Korngold; the only relief being the Love music (with its apposite harmonica solo) which has an aura of despondency and hopelessness as well as tenderness.
The packaging is good with excellent notes by the late Tony Thomas and a touching tribute to Thomas by Korngold's biographer Brendan Carroll.
Reviewer
Ian Lace

Gary S. Dalkin adds:-
There is no mistaking his master's voice. With Max Steiner, Erich Wolfgang Korngold all but invented the sound of Hollywood film music, and his influence persists today whenever a symphony orchestra is assembled to perform the music of John Williams, Jerry Goldsmith, James Horner and countless others. All the more remarkable then, that Korngold considered himself primarily a concert composer, and only wrote a total of 19 film scores. Consequently, more than most, Korngold's film writing forms a continuum with his 'serious' work, his writing for whatever venue always thoroughly through-composed, his film work usually able to stand alone away from the silver screen.
Three films are featured. The album opens with a 27-minute suite, divided into 16 parts, from Juarez (1939). This is fiery and exciting music, full of action and swashbuckling adventure, and with characteristically fine main and love themes. The Spanish flavour is not as strong as might be expected, for essentially Korngold wrote Korngold, no matter the subject. One oddity is that, although the disc is lavishly packaged, with stills and extensive booklet notes, including full documentation of the orchestral players, there is no credit for the soprano voice which appears on the interpolation of the song 'La Paloma' into track 8: 'Farewell'. Further, although the notes on Korngold and Tony Thomas are informative, the memoir on the latter appears with no explanation of any direct connection between the man and the CD. Presumably Thomas arranged the suites recorded here.
Next is a comparatively short suite from The Private Lives of Elizabeth and Essex (1939), and if one wanted to be really pernickety, it could be argued that in these days of 75 minute plus albums, we could have been offered a little more than 6 minutes. This suite, offering the opening and closing music, a fanfare and march, is very much in the mould of The Sea Hawk, and is a delight while it lasts. However, given that many Korngold aficionados will already have a recording of the complete score, of rather more interest is a 27-minute suite from The Sea Wolf (1941). Yet again we are given maritime adventure, but this time of a darker hue for this wartime tale of desperate peril. Suffice to say, it is hard to imagine anyone with a love of Korngold's film work being disappointed by this suite, while it has many qualities which may appeal to those who find his music sometimes overblown or sentimental. If you thought the composer specialised only in rousing heroics and sweeping romantic melodies you may be surprised to find the almost Herrmannesque atmospherics of 'The Fog' and 'The Shipwreck', while even the 'Love Scene's is far more lyrically understated and pastoral than comparable themes from Devotion or King's Row.
The criticism that has sometimes been levelled against James Sedares and the New Zealand Symphony Orchestra, particularly for their superb disc of Miklos Rozsas El Cid, is here utterly confounded. This is simply a magnificent recreation representation of Korngold's music, presented not on thin 'authentic' distorted mono sound, but as the composer can only ever have dreamed of, with rich and dynamic stereo sound, with utterly committed and finely accomplished performances. There are still too few recordings of 'Golden Age' film music, and a recording of this calibre is to be warmly welcomed by anyone seriously interested in cinema as a musical art form.
Reviewer
Gary S. Dalkin

Reviewer
Ian Lace

Reviewer
Gary S. Dalkin

---
---
Reviews carry sales links
but you can also purchase
from: