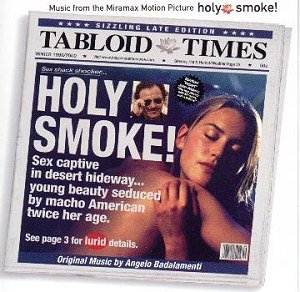 Holy Smoke indeed, for we are led to believe, from the composer's note, that the themes for this score were written, in the company of director, Jane Campion, in two and a half days. Maybe, if they had taken a little more time, they might have recognised that the cue music 'Betrayal of Ruth', that brought tears to Ms Campion's eyes, was perilously close to Henry Mancini's Charade theme. This too-close-for-comfort resemblance certainly inhibited my enjoyment of this score and listening to the first few dirge-like tracks I was of a mind to dismiss this album as a temporary glitch in Badalamenti's upward progress. However the album improved markedly as the cues progressed. 'Waiting, Reaching, Searching', with its persistent three-note motif has more colour and rhythmic flexibility but with an added melancholic lassitude that reminds one of Badalamenti's Twin Peaks music again. 'Kiss All Around It' is an amusing sort of tango triste; and 'Snappy Lipstick' is a snappy catchy jazz number that swings along happily with piano, banjo, whistler. But the most memorable cue is 'The Celebration' native music with alluring and intoxicating rhythms and plenty of exotic drumming. The producers clearly thought they were onto a good thing with this one for it is repeated at the end as a six-minute cue, with the song's title, Maya, Mayi, Ma. This time it is sung by non too convincingly by an unnamed vocalist (Winslett?) who goes on to quote what sounds like Indian religious tracts (?) accompanied by appropriately Indian inflected music.
Completing the disc are three songs from Neil Diamond, The Angels, and 'Primitive' written and sung by Annie Lennox, the latter being by far the best.
Reviewer
Ian Lace

and another view from Mark Hockley
With the front cover of the CD parodying the tabloids with its headline 'Sex captive in desert hideway…young beauty seduced by macho American twice her age', you might have expected something a little more lurid from this score, but Angelo Badalamenti's music couldn't be more different.
As the man himself says on the sleeve-notes, his style might be referred to as 'bitter-sweet' and this is indeed an apt description of the music here.The main theme is introduced in 'Betrayal of Ruth' and is low-key and emotional and can only add a much-needed dimension to the images on screen. This theme continues to develop through tracks like 'Love Journey' and 'Moonrise' and is the mainstay of the entire score and I found myself reminded at times of the work of Georges Delerue (which is certainly no bad thing!). These variations build toward 'Waiting, Reaching, Seeking' which is probably the most satisfying stand alone track on the CD, seeming to best summarize the overall tone and feel.
However, things take an abrupt left-turn with 'Snappy Lipstick', a cheeky, Charleston inspired piece with Honky Tonk piano thrown in for good measure and this certainly comes as something of a surprise after all of the introspective, heart-rending melancholy that has preceded it. But we quickly return to another take on the main theme with 'Hallucination', featuring a soul-searching lone violin.'The Celebration' introduces a triumphant, hopeful element with lyrics and vocals by Chloe Goodchild, which is given a fuller interpretation in the final track 'Maya, Mayi, Ma'. These two pieces at last inject the long anticipated Indian influence that features heavily in the movie, but if I admit that I far preferred the earlier thoughtful melancholia to this celebratory conclusion, that probably says more about me than it does the music itself!
Three songs are also included, Holly Holy by Neil Diamond, The Angels 'I Put a Spell on You' and Primitive from Annie Lennox, but they offer very little and are distracting from the overall tone of the CD.I should also note that there does seem to be some discrepancies in the sleeve notes with tracks 1, 7 and 12 supposed to have lyrics and vocals by Chloe Goodchild and yet her work actually only appears on tracks 11 and 14 . To confuse matters even more, the track listings denote her work as being on 6, 11 and 14!
Although I can't really whole-heartedly recommend Holy Smoke as a purely aural experience, there is certainly enough here to satisfy admirers of the composer and perhaps even win over a few new ones along the way, but I am left with the impression that this is music that needs the images it was written for to truly soar.
Reviewer
Mark Hockley


Reviewer
Ian Lace

Reviewer
Mark Hockley

---
---
Reviews carry sales links
but you can also purchase
from: