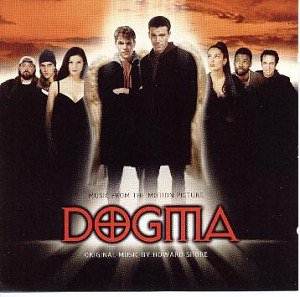 This is the film that apparently outraged the Catholic League although it is more about faith in God than being negative. Described as a comic fantasia, a comedy parable, it is about another round in the eternal fight between good and evil. Angels, demons, apostles and prophets (of a sort) walk among the cynics and innocents of America and contest for the fate of mankind.
For Dogma, Howard Shore's usual action poundings are elevated and given a certain religious majesty and awe and an opposite demonic power - and not without a wry sense of humour. Besides an important role for organ (which in many cues will set your floor-boards shuddering), the orchestral forces are small but unusual yet the sound they deliver is often huge: just three violins, with piano, harpsichord, ondes martenot and cymbalom plus a lot of woodwinds and brass. The first purely orchestral cue 'Dogma' is imposing enough with huge organ swell, tam-tam crashes and a blending of Gregorian chant and other ancient church styles with Rozsa-type biblical music, Orff-like motifs and modern action movie material. The other cues alternate between furious satanic growlings in'The Golgothan' and the frantic chaos of Stygian Triplets in which one senses the beast ids really unleashed, and lighter more 'saintly' material ('The Last Scion'). In 'John Doe Jersey' and the following 'A very relieved deity', the side of righteousness wins and the music becomes ever more heavenly and ecstatic moving through such influences as Holst's Mars, Debussy's Nocturnes and Fauré's Requiem.
The most extraordinary - and the most appealing - track on the album is 'Mooby the Golden Calf', scored for a corporate meeting scene. (I have not seen the film yet.) Mooby is one of the cartoon characters featured in the corporation's magazines and films. The marching song, for children, describes Mooby's character. It's a very catchy number and is slightly reminiscent of Salvation Army material but the children's voices are indistinct so one cannot catch the words; and Mooby being a golden calf one must also assume a possibility of the opposite? Ah well, they always said the devil had the best tunes.
The score opens with another song called 'Still' sung with foggy diction by Alanis Morisette, only the odd word is discernible; it seems to be a collection of paradoxes sung or chanted to music of an Eastern flavour and with instrumentation that includes a sitar.
Unusual
Reviewer
Ian Lace


Reviewer
Ian Lace

---
---
Reviews carry sales links
but you can also purchase
from: