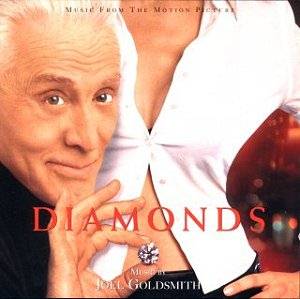 Following last year's two remakes of The Thomas Crown Affair (the official one and Entrapment) Diamonds is a light-hearted romantic-comedy crime-caper, a throwback to the Hollywood of several decades ago. Quite appropriately it marks the return to the screen of two of the finest surviving stars from Hollywood's middle decades, Lauren Bacall and Kirk Douglas. The music is by Joel Goldsmith, and if his father, Jerry is frustrated to forever be in the shadow of John Williams, after two decades of film-scoring, it is equally time for Joel to step out of his father's shadow and be recognised as a major film composer in his own right.
Over its 25 tracks and 39 minutes Diamonds encompasses a great variety of music, from a romantic main theme in similar vein to Rachel Portman's Emma or Mark Thomas' Aristocrats, to the absolutely barnstorming big band jazz of 'Walk Through the Casino' and 'Reno Lights'. In-between there is elegant atmospheric music, fine pastoral writing, and even, in 'Lance's Girl', something like music from an Indian version of Twin Peaks! The closing song might have come from the pen of Eric Idol for some never-made Monty Python movie. Goldsmith's tunes are glorious, the sound, especially on the jazz tracks, fantastically good, and though there is a lot of diverse writing across a lot of tracks, somehow it all holds together to become more than the sum of its excellent parts. (The cheery lad's song excepted).
With The Legend of 1900 and The Talented Mr Ripley, combining jazz and traditional orchestral writing is emerging as a significant trend in film music. Based on the evidence here, it can only be a good thing, for while the movie Diamonds may not last forever, the tracks on this disc are real gems.
Reviewer
Gary S. Dalkin

Reviewer
Gary S. Dalkin

---
---
Reviews carry sales links
but you can also purchase
from: