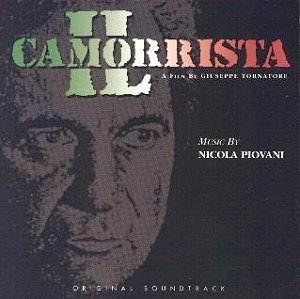 The more I hear of Piovani's work, the more certain I become that the Oscar win for Life Is Beautiful was richly deserved. There's a defined voice at work throughout the series of releases on the Pacific Time label, e.g.: De Eso No Se Habla, Il Sole Anche Di Notte, and Tu Ridi. The only problem that comes of the label's sparse packaging is determining at what point we are enjoying the development of that voice, since no credits in the form of dates are present.
You can hear the prevalent echoes of his style in the recurring doubled piano line of many pieces (e.g. underneath the equally staple high trumpets of "La marcia dei pentiti"). The other telling trait is Piovani's ear for percussive rhythm - something that likens him to countryman Morricone of course. "La cattura" is a superb example of controlled experimentation on a drum set.
The album opens with the title cue that acquaints the ear for the tone of the album. It's a most disconcertingly detuned bunch of instruments perhaps hinting at some form of madness (another drawback of no album notes is having to guess what it's about!). Coupled with cue 2 - "Rosaria" - which is a most entertaining conversation between 2 pianos (one jangle style) you have a full template for the following half hour.
The only changes of pace are for the exciting ensemble dash that accumulates dizzyingly in "Il professore", and a sweet little piece of smoochy jazz stylee in "Moderato slow".
If you haven't caught any of the other scores in the series, this is an ideal introduction to the collection.
Reviewer
Paul Tonks

Ian Lace adds:-
This is the Italian take on the Mafia/gangster movie. Piovani's music is very Italianate, powerful and sinister alternating with the sentimental (although one might imagine this is for the 'Godfather's' family? The score opens, arrestingly with darkly insistent timpani beats marching inexorably forward over biting string chords and the sort of brass figures that can only emanate from Italy - proud yet oddly grotesque. From then on the pressure is unrelenting. A good gripping atmospheric score complete with saloon-style pianola you feel is going to be perforated with gunfire at any moment. Paul has said all the rest.
Reviewer
Ian Lace