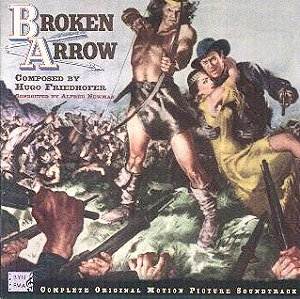 Despite a demonstrated gift for composing, Hugo Freidhofer toiled for years as an anonymous orchestrator for such Hollywood heavyweights as Max Steiner. Erich Korngold and Alfred Newman. Finally given his chance in 1946, he composed The Best Years of Our Lives -- a landmark motion picture score that still ranks as among the greatest works in film music history. Yet even though Freidhofer followed that triumph with other exemplary scores -- The Bishop's Wife, Boy On a Dolphin and The Young Lions come immediately to mind -- he remains one of the least heralded composers from the Golden Age of movie music. In Tony Thomas' book Music for the Movies, the author devotes a chapter titled "The Price of Excellence" to Friedhofer and two others -- David Raksin and Bernard Herrmann -- whose devotion to their art caused them to eschew musical extravagances designed to win audiences' attention at the expense of the film's and score's integrity.
For Broken Arrow , Friedhofer's music is all sinew and muscle - connecting, clarifying and illuminating. William H. Rosar's informative notes to this recent BYU/FMA release repeatedly use terms such as "stark," "bleak," and "sparse" to describe the score. Yes, there is thematic development (a great deal of it) and yes, even melody - but all to one end: serving the story. With the exception, perhaps, of The Best Years of Our Lives, no Hugo Friedhofer-scored film ever left audiences humming a theme. And he was proud of that. Happily, that's not to say Broken Arrow doesn't reward repeated listening. If you work at it, this music can grow on you. One of the first noticeable things about the score is its complete lack of cliches, both of the general Western or "cowboy" style and specifically of standard Hollywood "Indian" music. For example, Friedhofer doesn't spotlight a "war drum" until the 14th cue ('Warriors Return.') Because it told so much of its (true) story from the Indians' perspective,
Broken Arrow was something different for 1950 movie audiences. To complement this, Friedhofer wrote not one but four separate Indian themes, the primary one being 'Cochise,' a muscular statement depicting the Apache leader's mutually noble yet war-like stature. Friedhofer's main title cue uses this theme along with one he wrote symbolizing the peace treaty to illustrate the story's conflicting elements. Among the several other themes, I have found myself most immediately taken with the one for Sonseeahray, the Indian woman who falls in love with James Stewart (as Jeffords, the white Indian agent who brokers peace with Cochise). Typically, Friedhofer does not use this theme in the scene that introduces Sonseeahray's character, waiting until later when the love interest develops. For their wedding ceremony, 'Primitive Ritual,' Friedhofer manages to evoke a sense of archaic beauty from simple instrumentation beginning with a solo English horn, followed by a duet for flutes. Only later in this, the score's 20th cue, do we finally hear the film's love theme ('The Lovers.') The subtle beauty of this music turns tragic later, when Sonseeahray is slain and the music mirrors Jeffords' anguish.
Broken Arrow contains occasional hints of One Eyed Jacks, Friedhofer's crowning achievement among his Western scores, which would come more than a decade later.
This BYU Film Music Archives Soundtrack Series release is taken from the original optical studio music tracks, most of which is in stereo although the film was released in mono, and the sound is quite good despite a small amount of detectable hiss. The casual soundtrack collector might prefer to pass on this, but for Friedhofer fans - and there ought to be more of these -- this is a must.
Reviewer
John Heuther

Paul Tonks is enthusiastic:-
It's always quite daunting trying to comment on the revered classics. A fifty-year-old film has naturally been talked to death in most senses, and a score as splendid as this puts a writer to task in coming up with superlatives enough.
So instead of drooling loquaciously over Friedhofer's stunning ability to capture environment without cliché (e.g. the rousing - not amusing - pounding Indian drums of "Tucson and Cochise"), this reviewer would like to recommend this album for its outstanding restoration and presentation.
Although the sound passes from stereo to mono, and there is the occasional crackle or pop (e.g. end of "Narration and Opening"), there's something made all the more emotive by these limitations. The sweet sweet strings of "Tucson and The Lovers" says something more in its aurally dated form than any pristine digital mix might. The Brigham Young team are never apologetic for the quality of the recordings, but unlike the near inaudible She, this is nothing to apologise for.
Packaging, illustration, quality of penmanship, and a charitable cause make this an essential.
Reviewer
Paul Tonks


Reviewer
John Heuther

Paul Tonks

---
---
Reviews carry sales links
but you can also purchase
from: