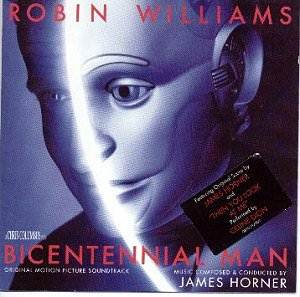 I have to confess I had mixed feelings as I listened to this new Horner score. I was quite impressed with some tracks, bored by others. My idea for a final rating kept fluctuating and I had to fight down my inclination to go for the obvious criticism that, once again, we have rather too much self-quotation.
So let's look at the positive elements first. Once again, I was impressed with Horner's vivid and imaginative orchestrations which bring Robin Williams' robot character to life.
The music in the first two or three tracks is most appealing. 'The Machine Age' is quirky and humorous but highly evocative with its distinctive hammering and riveting sounds. Together with 'Special Delivery' and 'The Magic Spirit', there is an eerie, other-worldliness about Horner's music that is also rather cosy and folksy, and delicate and fragile; and carries, with it, a sense of awe and wonder - all very much at the same time.
'A gift for little miss' adds childish playfulness to stardust wonderment and sentimentality with just a dash of the sinister. 'Transformed' is another sparkling, tinkling track where the men's voices supersede the women's, and attractive little harp and piano figures ripple through the texture. 'A new nervous system' is one of the few upbeat, faster tempo cues; playfully joyful, with attractive pizzicato string variations of the main theme. 'A truer love' has counter melodies in the upper and lower strings indicating the romance; and the tempo picks up to express increasing elation. 'Growing Old' is a more satisfying variation of the sentimental cues that make up much of the remainder of the album.
Now to the downside. Sony seem to think they are doing us a big favour by giving us over an hour of music on many of their sountrack releases. This is fine if the music merits it. This one does not. Firstly, Horner does not present a memorable main theme. Instead, we have material glued together (but expertly and often attractively glued together) frequently based on material he has used before - in Titanic and Legends of the Fall, for instance, interspersed with borrowings from the classics. Clearly, Holst's The Planets comes to mind. Also he seems to be following a trend that is apparently popular now in Hollywood -- the English String Music tradition. This score is heavily string-based; the music is predominantly slow and elegiac. Too many tracks on this album particularly in the middle sound too much alike. I have to be frank when I say I had difficulty keeping awake. At least Elgar, Finzi and Moeran knew how to vary and enrich their writings to maintain their listeners' attention.
The CD ends with Celine Dion's excruciating warblings to even more inane lyrics than for that Titanic song. This time its called "Then You look" - no thanks.
Reviewer
Ian Lace

Gary S. Dalkin adds:
Perhaps I shouldn't be so 'agreeable', but I find myself in concordance with virtually everything Ian says in his review above. This is a long album, for serious concentrated listening, too long. Many of the tracks are indeed similar. Yet I for one don't regret the length of the disc, because it is always easy to programme out certain selections, while as high quality background listening this is a most appealing release. Certainly this is a score that falls within the 20th Century English classical tradition, while adding touches of Hollywood glitter, and it is, at a time when popular music is falling to ever more abysmal depths, gratifying to find real music flourishing and heard by millions. I think perhaps Ian is a little unfair in suggesting that Horner's music fails to keep the interest when compared to Elgar, Finzi and Moeran, as they were writing pure music designed to be the sole focus of attention, not as a subsidiary element to a dramatic production. As film music Horner's score does all that is required of it, and succeeds admirably. Yes, there are echoes of Braveheart, Legends of the Fall and Titanic, but they are not wholesale borrowings and I would class them more as indications of the composer's style, just as the echoes of Close Encounter's of the Third Kind, The Fury and Presumed Innocent which occur in John William's marvellous Angela's Ashes are indicative of his style. Bach and Handel endlessly recycled whole chunks of their music, and we rightly consider them two of the finest composer's who ever lived.
Of course there is a down side. As has become standard practice with James Horner scores, there is a wretched ballad, with idiotic 'lyrics' by Will Jennings, warbled through by the numbing Celine Dion, over a production to rot teeth at a 100 yards. It's enough to give pop music a bad name, and I'm just thankful James Horner wasn't engaged in this practice when he wrote Legends of the Fall. Fortunately there is still over an hour of enjoyable music on the disc.
Reviewer
Gary S. Dalkin


Reviewer
Ian Lace

Gary S. Dalkin

---
---
Reviews carry sales links
but you can also purchase
from: