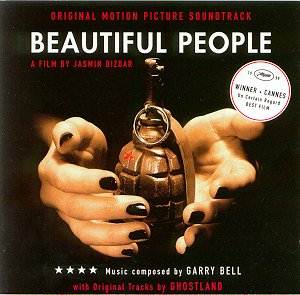 The mixture may be too eclectic to make for a wholly pleasing listen, but this is a surprising collection of ideas. Composer Bell works in-between tracks from UK band Ghostland, but for the most part both these inclusions and the sourced songs are at least fun in their own way. The director comments in the booklet that he sought to portray the fast-paced London lifestyle coupled with the ethnic elements of the story. That would seem accomplished by the complicated Balkan rhythms of Bell's "Churchill's Mistake" and "Pero's Walkman". These are frenetic fun.
Ghostland's contributions are a little more diverse. "This Is War My Friend" follows the principle of the above and adds a strong beat for contemporary measure. But it is in the contemporising that the album loses cohesion, with a track like "Talkin' ' Bout Life" being just too darned techno to sit comfortably in its surroundings. It's a mixed affair, but with a little programming could make for an humorous party background accompaniment.
Reviewer
Paul Tonks

Kostas Anagnostou adds:-
Beautiful People narrates everyday situations in which Londoners encounter Bosnian refugees, and tries to capture the energy and confusion caused by these cultural clashes.
Apart from Gary Bell, the English band Ghostland was summoned to score the movie. Both Bell's and Ghostland's music is appropriately painted by the colours of Balkan folk music and its motifs, heavy on brass, are, in a way, similar to Goran Bregovic's 'Underground', providing a sufficient ethnic flavour to the movie. While Bell concentrates mainly in weaving the right ethnic tapestry, Ghostland dwells a little deeper into the emotions as in 'She's Beautiful' and 'That War is my Friend' to reveal the human side of the story. This doesn't mean that Bell's music is devoid of sentimental moments though, such as in 'Jag Jag, Sleepy Sleepy', based on a simple synthesised motif, mixed with synthesised voices. Perhaps the most recognisable theme in the score is 'Davni Chasy', a traditional piece that formed the basis for a very famous song.
Various songs are scattered throughout the score (fortunately not many), some pop and some Balkan which somehow do not blend too nicely on the CD, although they serve their purpose of representing the different cultures. Other orchestral source music completes the album.
All in all, you will probably enjoy this score if you are into Balkan music and if you liked 'Underground', although it lacks the genuine Balkan flavour and variety of that score. Otherwise it is not a very memorable listening experience.
Reviewer
Kostas Anagnostou


Reviewer
Paul Tonks

Kostas Anagnostou

---
---
Reviews carry sales links
but you can also purchase
from: