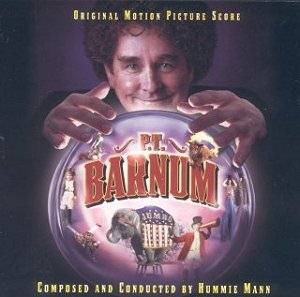 Director Simon Wincer's career includes the hugely successful mini-series Lonesome Dove and the box-office smash Free Willy. However, following the commercial failure of the extremely expensive The Phantom his six most recent productions have all seen him back in television. P.T. Barnum, which stars Beau Bridges and George Hamilton, is the latest lavish Hallmark mini-series, and it is exactly as the title suggests, a biopic of the famous master showman. The series has received extremely mixed reactions, but one thing is certain, Hummie Mann has contributed a most attractive score.
Mann has been a prolific composer for American television over the last decade, and based on the evidence here it is only a matter of time before he becomes better known. As the CD cover quotes "Music by Hummie Mann is rousing and festive in the grand tradition of John Philip Sousa and a perfect fit to the circus like atmosphere of the story" - Variety. This is a perfect description of the score, though perhaps a surprisingly small amount of the music directly evokes the Big Top. What there is aptly captures the circus mood, though far more of this writing falls into what might best be termed 'classic Americana'. Remove the jolly circus themes and this could be the music for a pastoral, slightly melancholy modern western, something in the lineage of Barry's Dances With Wolves, Broughton's O Pioneers! and Blumenthal's General Sutter. In fact, more than anything the beautifully crafted lyricism of P.T. Barnum reminds me of General Sutter. The tracks have rather clumsy titles, but 'Newspaper Article/Charity's Illness/Road Show/Charity Dies' has an especial wistful loveliness, while elsewhere much of the writing richly captures the sense of adventure and boundless possibilities of a young America.
As a CD the disc is a little repetitive, with considerable use made for over an hour of the individually excellent main themes, but even so this is a fine document of a very beautiful and appealing score. Don't be put-off by assuming this is an album of circus music, rather aficionados of the Western will find great pleasure in this album, with even the festive tunes bringing to mind as much marching bands through small towns in the early reels prior to the big gun down. Here is a fine place to start exploring the work of a most talented composer.
Reviewer
Gary S. Dalkin


Reviewer
Gary S. Dalkin

---
---
Reviews carry sales links
but you can also purchase
from: