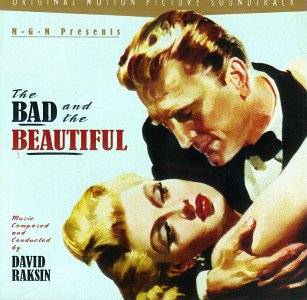 Does any other composer tell as many entertaining anecdotes about his music as David Raksin? How he came to write his famous Laura melody is the stuff of legends. Add to this Raksin's humorous tale of first playing his theme to The Bad and the Beautiful on the piano for Andre Previn, who was clearly underwhelmed. ("It was confused and confusing," Previn writes in his autobiography, 'No Minor Chords.' "The harmonies tumbled over one another, and themelody was a snake.") Raksin was discouraged, but days later was able to finally record the theme with full orchestra on the MGM soundstage. Previn, who was nearby, overheard the music and rushed up to
congratulate him on such a lovely work. When the rather irritated Raksin pointed out that Previn's reaction to his piano version had been quite opposite just a few days previous, Previn could only respond: "Well ...the way you played it, who could tell?!!"
The story doesn't end there, either. As Raksin tells it in his typically witty liner notes to this Rhino/Turner Classic Movies release of the complete soundtrack, the theme was later rescued from producer John Houseman's rejection by the serendipitous intervention of one of Hollywood's top music and lyric duos. But you can read that part of the story yourself. It's enough to say here that Raksin's sinewy, undulating, entangling main title theme to The Bad and the Beautiful is today considered among the greatest themes ever written for a motion picture. Yes, it's that good, and justifiably that famous. (Check the jazz catalogues to see how many versions have been recorded.)
Made in 1952, the film was a surprisingly honest, often dead-on behind-the-scenes depiction of how Hollywood works, focusing on three stories of a director, a writer and an actress, all of whom are used and discarded by an unethical producer portrayed by Kirk Douglas. Helping Douglas lure them into his schemes is Raksin's main theme which, producer John Houseman told him, needed to be a "siren's song" to make the story work. This CD features three versions of the main title theme -- the second two offered as outtakes at the conclusion of the score. (Raksin varied it yet again for an extended suite he conducted in a marvelous RCA Classic Series LP in 1976. That recording also includes Raksin's Laura and Forever Amber, and is one of the three or four recordings I could happily be stranded with on a desert island.)
Following the main title, Raksin's liner notes lead the listener on a cue-by-cue journey through the film, illustrating music's role in motion-picture storytelling as he goes. It's a bit of a history lesson, too, as Raksin evokes, without repeating them, the cliches of silent movie music, 1940s horror films, and even a tribute to Max Steiner, all encapsulated in a few short cues. One source cue for a newsreel montage deftly turns into underscoring.
But it's that main theme that keeps intriguing the listener. Raksin's variations and developments are brilliant -- the scherzo of the 'Hurry' cue, for example -- and leave an overall effect that is far from the mono-thematic approach that became so popular a decade or solater.
Just over half of the 47 cues on this disc run less than a minute, but the choppiness that's so often inherent in such a format is no bother here, perhaps in part because Raksin's liner notes fuse the music and the story so compellingly. Credit's also due to the people at Turner Classic Movies, for whom this is another in a string of exquisitely detailed film music recordings.
Reviewer
John Huether

Ian Lace adds:-
David Raksin's music for The Bad and the Beautiful is one of my ten all time favourite film scores so I was predisposed to like this original soundtrack album even before it arrived. It perfectly compliments the extended suite that Raksin recorded so superbly in the RCA Classic Film Score series in 1976. (I most heartily agree with John. This recording has to be one of the three or four recordings I could also be happily stranded with on a desert island.)
The presentation is excellent with Raksin's fulsome notes and many stills from the film. I particularly relished hearing, in context, the gorgeous clarinet solo in "The Letdown" which distinguished 'Nocturne' in the RCA recording suite; and all the music associated with Jonathan' s (Kirk Douglas) ruthless romantic manipulation of Georgia (Lana Turner).
It does seem a pity that the original stereo recording (although the film was released with in mono) was lost. This is a mono record from a ¼ inch magnetic tape copy that was, thankfully, made for safekeeping. Nevertheless, this is a classic score and it should be a treasured possession for any film music enthusiast.
Reviewer
Ian Lace