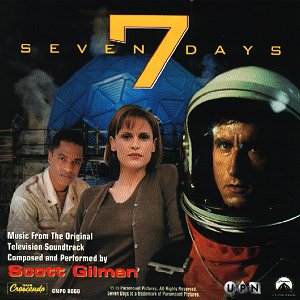 This is very much a TV score of the nineties, with a consistent supply of sampled percussion and rhythms bordering on dance music backing. The great thing about its use here however, is Gilman's melodic sense keeps it from completely dominating the mix. The cues from 3 episodes are edited together to form lengthy suites, and without an attentive eye on the clock, it's tough tracking what was where. Moments of tenderness come and go (e.g. "Clary's Funeral"), but mostly the mood sustained is one of brooding tension and / or hijinks adventure. The catchy Main Title motif appears every so often in an almost Indiana Jones-like fashion.
At over an hour it's a generous representation of the series, but perhaps slightly too much on the ear.
Reviewer
Paul Tonks

Kostas Anagnostou adds:-
A machine made out of parts from an Alien spaceship, allows one man to travel back in time for seven days in an attempt to a prevent any great catastrophe that took place in the past. This the familiar formula which Seven Days, a TV series, is based to create a modern rendition of Well's Time Machine.
The CD contains music from 3 episodes of the series, composed and performed by newcomer Scott Gilman. The essence of the series is a constant battle against time and this is well reflected in the score. The composer dressed the series with a synthesised score, over a constant layer of beat, electronic percussion and snare drums, that doesn't seem to be suppressed at any point in the score. It fires off quite promisingly with the "Main Title" that contains dialogue. The synthesised theme sounds quite familiar, but it is enjoyable nevertheless. Following this brief glimpse of thematic development, comes almost never-ending action/chase music, produced mainly by a drum machine, that quite successfully builds time-constraint panic and suspense. The action motif does not alter significantly between tracks, repeating with just small variations. Quieter passages are often interchanged with the action tracks, mostly void of thematic content, never escaping the underlying percussion layer. These slower parts are underscoring in nature and do not have a big dramatic impact. The main theme, sparingly utilised in some tracks, drowns in a thick cloud of beat and percussion, and seems incapable of elevating the score. Not many tracks stand out.. Besides the main title, "One More Time" is a quite light-hearted, fast-paced and enjoyable track, albeit too short.
Seven Days is a constant medley of electronic, rhythmic music over multiple layers of beats, that may stand sufficiently well on screen, but collapse as a stand-alone listening experience. The relentless beat becomes annoying at length and incoherent, causing attention to drift. There is insufficient material to interest the ear.
Reviewer
Kostas Anagnostou

Reviewer
Paul Tonks

&
Kostas Anagnostou

---
---
Reviews carry sales links
but you can also purchase
from: