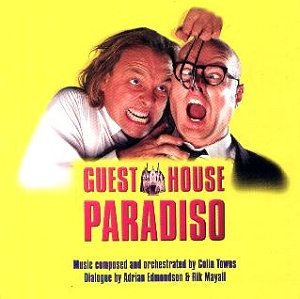 If you know Ritchie and Eddie, then the concept of this album won't surprise one bit. There's plenty of profane language and cartoon-like sound effects. If you really know the duo, then Towns' anarchic jazz score won't be a huge surprise either. As The Dangerous Brothers, this was the sort of thing that suited their chaos perfectly.
The dialogue might become annoying after a couple of listens, but this is music that should continue to amuse and amaze. A great show piece is Gold Teeth Tango in which the tempo winds down as if disconnected from a power source. Then there's the half-cut saxophone of "Happy Hour" which shambles its way through the saloon doors.
Surprisingly, there's a little romance. Surprising both in the sense that the pair should finally manage to find a woman (!), and also in something like Miss Carbonara offering tenderness amidst such sheer insanity. It's perhaps an acquired taste. But ever since The Young Ones, that's always been the case.
Reviewer

Paul Tonks

Ian Lace adds:-
Rik Mayall continues to draw the most uncomplimentary comments from the critics and Guest House Paradiso is no exception. The under-graduate toilet humour on this disc is a total embarrassment and I am surprised that Colin Towns has chosen this vehicle to launch his new label. I would prefer to forget its inanities and anticipate the promised Catherine Cookson material.
Reviewer

Ian Lace

Music:

Dialogue
[P.O.V. Records: P.O.V. Records is the new label established by Colin Towns, one of the UK's most prolific TV composers. The label is dedicated exclusively to producing soundtrack albums. Following the release of Guest House Paradiso, P.O.V. Records will be producing The Catherine Cookson CD Collection Part ! from the last three television adaptations of Catherine Cookson's dramas, including the new score from the forthcoming The Secret. This album precedes potential future releases of music taken from all Catherine Cookson television dramas.]
Reviewer
Paul Tonks



Ian Lace
Music:



Dialogue





---
---
Reviews carry sales links
but you can also purchase
from: