---
****************************************************************************

EDITOR'S RECOMMENDATION Sept/Oct 1998

*****************************************************************************
20th CENTURY FOX - MUSIC FROM THE GOLDEN AGE OSTs
Fox Classics/VARÈSE SARABANDE VSD-5937 [69:03] Excerpts from: Prince Valiant; The Seven Year Itch; Beneath the Twelve Mile Reef; The Razor's Edge; The rains of Ranchipur; Viva Zapata; Love is a Many Splendoured Thing; The Ghost of Mrs Muir; Captain from Castile; Journey to the Centre of Earth; Will Success Spoil Rock Hunter?; Daddy Long Legs; The Tall Men; Leave Her to Heaven; All About Eve; The Stripper; Violent Saturday; Song of Bernadette; Anna and the King of Siam; Rio Conchos; Prince of Players; The Best of Everything; The Man in the Gray Flannel Suit; The President's Lady; Patton; Garden of Evil; A Man Called Peter.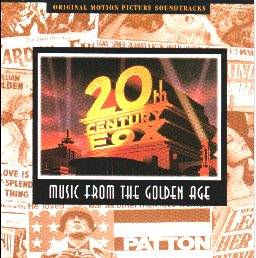 This is a first class collection - over two dozen excerpts (although tantalisingly brief) of major 20th Century Fox releases from the 1940s, 50s and early 60s penned by many of the leading composers working in the genre at that time: Franz Waxman, Bernard Herrmann, Hugo Friedhofer, Alex North, Jerry Goldsmith, Victor Young and of course Alfred Newman who was music director at the studios and headed up all music activities there.
It is good to hear Alfred Newman's sweeping music for The Razor's Edge, his well-loved romantic music for Love is a Many Splendoured Thing plus some other material from his Captain from Castille score other than the celebrated "Conquest" March. Other invaluable inclusions: Victor Young's "The Cattle" cue from his outstanding score for the western, The Tall Men, Alex North's perky and sensual ballet music for Daddy Long Legs and the much under-rated Hugo Friedhofer's dark and sinister yet emotionally-charged theme for Violent Saturday. Early Jerry Goldsmith is represented by The Stripper, which has yearning for romance and pathos juxtapositioning the more obvious seediness; and the inclusion of an extraordinary whip-cracking ostinato in his very individually orchestrated western score, Rio Conchos.
By the way it is interesting to examine Alfred Newman's Academy Award achievement. His record for the greatest number of Oscars won in the music category still stands but a close examination reveals that many of these awards were for musical direction and arranging other people's music - the actual record for the number of Oscars for original music must therefore be held by John Williams (This anomaly probably explains why there have been relatively few compilations of Alfred Newman's music). Exceptional value

Ian Lace
---
Return to September Film Music Reviews
---